Chief Ray Driskell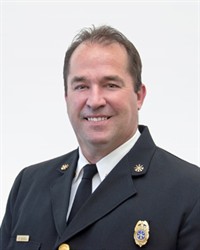 Tulsa Fire Department is dedicated to serving the very best people in the world, the citizens of Tulsa. In the past and the present they have supported our department not only with their praise but also with their actions. We will continue to find new ways and opportunities to best meet their needs and fulfill their expectations of our department.
The Tulsa Fire Department remains the only fire department in Oklahoma that has achieved International Accreditation. We have been blessed with great leaders in the past and will continue to build on their efforts to maintain one of the best departments in the nation. As an organization we recognize the value of management and labor working hand in hand to develop the tasks we must accomplish to achieve our strategic vision.
Thanks for visiting our website. You are always welcome whether you are a business looking for information or just browsing our site. I hope you receive insight into our department and the services we are delivering to our community.
Ray Driskell
Chief
Tulsa Fire Department
Bio
Chief Driskell joined the Tulsa Fire Department in 1985 and has held various ranks including District Chief, Chief of Finance, and Assistant Fire Chief in Field Operations, Deputy Fire Chief, and Fire Marshal. He became Fire Chief on July 1, 2012.

Chief Driskell earned an Associate's Degree in Fire Protection Technology from Tulsa Community College, a Bachelor's Degree in Organizational Leadership from Southern Nazarene University, a Master's Degree in Public Administration from the University of Oklahoma and is a graduate of the National Fire Academy's Executive Fire Officer Program.