Internships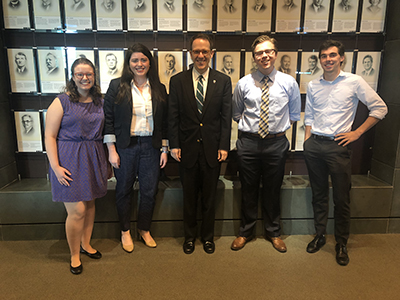 Are you a critical thinker interested in impacting the quality of life for all Tulsans and building your knowledge base of City functions in the process? If so, the Office of the Mayor is looking for you to intern this summer!
Session I: May 20 – June 28
Session II: July 8 – August 16
To be considered, email a resume and cover letter to Kimberly Madden, kmadden@cityoftulsa.org, detailing which session you would like to be considered for, any special interests areas in governance, and what makes you a good fit for this administration by Friday, March 29, 2019..  All positions are unpaid.
Duties and Responsibilities
Support the mission and vision of the Mayor by working with various facets of the administration, including but not limited to the Office of Performance Strategy & Innovation, the Office of Community Development & Policy, the Mayor's Office of Economic Development, and the Office of Resilience & Equity.
Research and prepare materials for presentations and correspondence on a variety of municipal governance topics.
Support the administration's efforts concerning education and public health.
Plan and arrange events for the next '918 Day'.
Help engage the community on a variety of topics, including the City's capital improvement program.
Research and present municipal incentives for economic development and best practices in addressing similar issues.
Translate municipal documents into other languages including Spanish, Hmong, Burmese, Russian, Vietnamese, Arabic, and Zomi Chin
Input, compile, clean, and analyze data for office use.
Other duties as assigned by Administration Staff.
A minimum of 15 hours per week.
Qualifications
Applicants should be at least a sophomore in college and at least 18 years of age. All majors are encouraged to apply. Key skills include:
Ability to work independently and collaboratively
Basic social media platform skills
Coding experience, R or Python, is a plus
Effective oral and written communication skills
Proficiency in Word, PowerPoint, Excel, and Outlook
Research and analytical skills
Writing, editing and proofreading
Strong consideration given to bilingual applicant