Off to a Great Start
By Robyn Undieme | April 30, 2015
It's been nearly two months since the MAAP relaunch began and it's been quite the ride. Penny and I have enjoyed hearing from many employees we hadn't had the opportunity to meet before this relaunch. Some employees have reached out to us to share ideas and recommend books for the new book club we will be kicking off shortly. Others have expressed excitement that the City is headed in a direction to engage employees to a greater extent.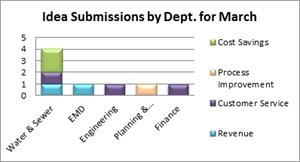 Along with that, I'd like to share a summary of what our Office received in regards to ideas submitted through Idea Basecamp during March. I will do my best to post summaries each month so you're encouraged to see the initiatives being started from the ground up and possibly start a friendly competition between departments for the most submissions (hint, hint).
March brought us nine employee submissions through Idea Basecamp, which may or may not sound like a lot to you, but it is a lot for an office made up of two people to take on. So, Penny and I have been strategizing a bit. We want to make sure employees are a part of the project screening and implementation. We want you to remain the owner of your project idea. Here's the process when you submit an idea to Idea Basecamp:
Currently, I meet with our Champions once a month during the lunch hour. Upon receiving your submission through Idea Basecamp, Penny or I will contact you to invite you to our monthly meeting with the MAAP Champions. You can discuss your idea in that meeting with myself and the Champions and request whatever assistance you need for implementing your idea, whether it is a cost-savings, revenue generating, or a general process improvement. The MAAP Champions will provide you some initial feedback about your idea. Then, one or more will partner with you to begin working toward screening/implementing your idea to include the MAAP Office's assistance as needed.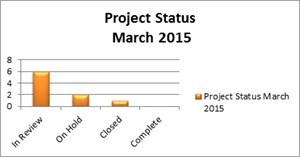 Now some might ask, "Who are the MAAP Champions?" The Champion program is made up of a group of employees trained in efficiency techniques and process improvements. They represent several departments and offer a wide skill set. The MAAP Office will have a lot more to say about the MAAP Champion program in the very near future, so stay tuned! If you can't wait to hear more, feel free to email me directly (rundieme@cityoftulsa.org) and I'll be happy to share more about the program with you individually.
I just want to say a big thank you to everyone who has participated or reached out to us this past month. The MAAP Office and MAAP Champions will have a booth at the Employee Health Fair in May. I hope we have the opportunity to meet you in person. Please don't hesitate to reach out to our office (maap@cityoftulsa.org). We appreciate you more than you know. Please keep the ideas coming!