Evans-Fintube Redevelopment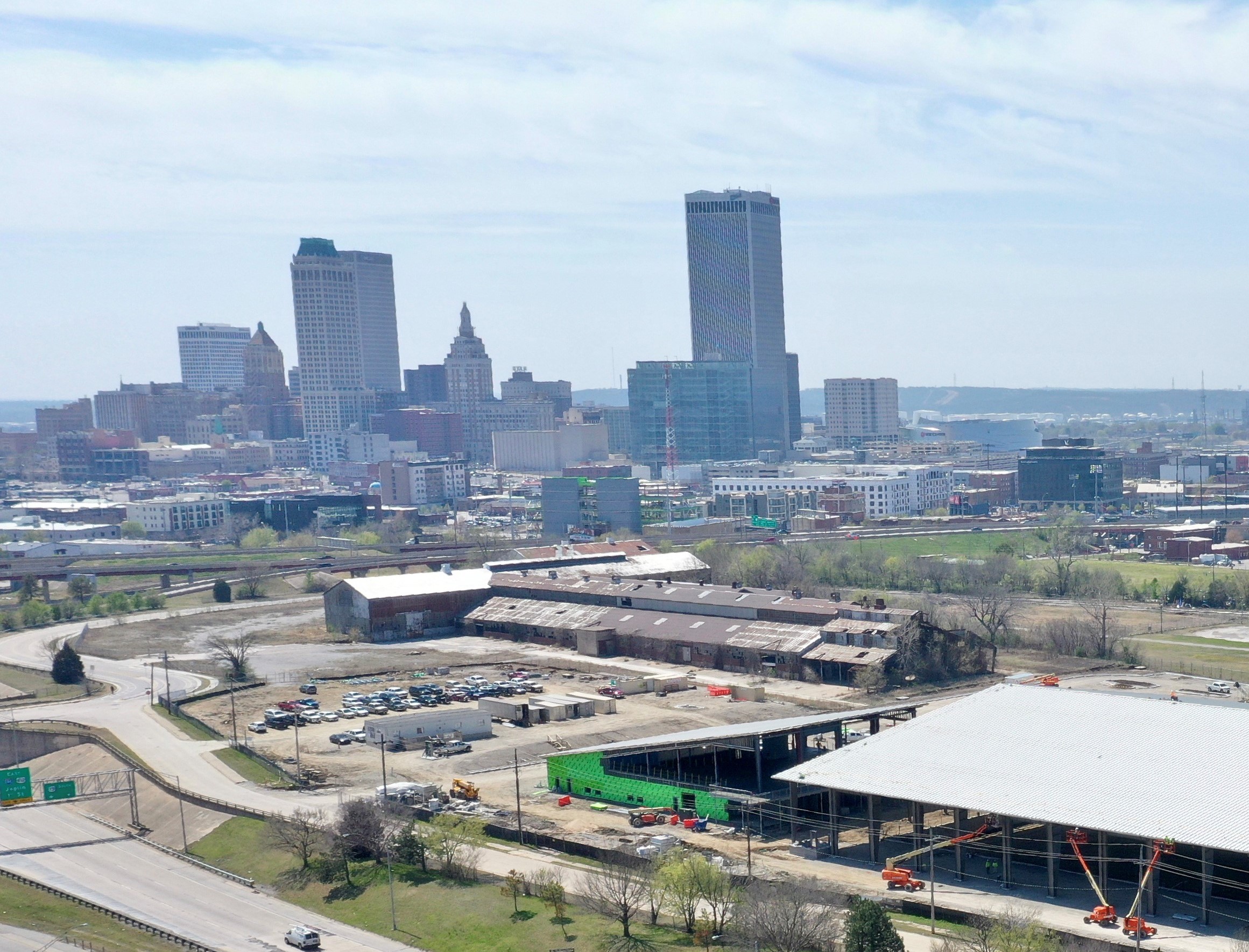 ---
"As we approach the 1921 Tulsa Race Massacre Centennial, this project creates an opportunity for community-driven economic growth in the Greenwood District," Mayor G.T. Bynum said. "I am hopeful this site will create a cultural destination that honors the history of Greenwood, while also building economic opportunity for the community."
     - Mayor G.T. Bynum
---
Home   |   Project   |   Neighborhood   |   History   |   Documents   |   RFQ Opportunity
---
Evans-Fintube
Located a half-mile from downtown, the Evans-Fintube site is primed to become the next major destination in Tulsa. The City aims to redevelop the former industrial facility, including the 120,000 square foot Oklahoma Ironworks Building, into a mixed-use destination district. The Ironworks Building presents opportunities for cultural, entertainment, and retail uses and is eligible for Historic Rehabilitation Tax Credits. The site also includes several acres of undeveloped land fit for multifamily housing and hotel space.
Evans-Fintube sits on the eastern edge of the Greenwood District. In the early 20th Century, the neighborhood became a thriving African American entrepreneurial center famously centered around Black Wall Street. Much of Greenwood was burned to the ground in the 1921 Tulsa Race Massacre when a mob of thousands of white Tulsans invaded Greenwood killing up to 300. Ultimately, the Evans Fintube project must create a place that simultaneously recognizes the history of the site and creates economic opportunity and wealth for the community.
---
Timeline
RFQ Released: April 26, 2021
Pre-Response Meeting: May 3, 2021

Time: 10 - 11 a.m. CT
Location: Virtual Meeting, Zoom Link
Site Tour: May 7, 2021

Time: 9 - 11 a.m. CT for Open House
Location: 118 N. Lansing Ave. Tulsa, OK 74120; entrance to site is on Archer St.
Virtual Tour starts at 10 a.m., Zoom Link
Deadline for Questions: May 26, 2021
Pre-Response Meeting 2: June 3, 2021

Time: 3 - 4 a.m. CT
Location: Virtual Meeting, Zoom Link
Responses Due: June 21, 2021
Posting of Shortlist to move to RFP Phase: Anticipated August 6, 2021
Phase II - Proposals: Summer/Fall 2021
---
Business Opportunities
Local businesses - sign up to express your interest and receive more information.
The City of Tulsa is actively seeking local businesses interested in opportunities to partner with developers and work on the Evans-Fintube Project. To sign up for communications and express your interest in potential opportunities, please complete the survey linked above.
See the list of interest local business partners
---
FAQ
Frequently Asked Questions Fact Sheet
---
Contact
For all inquiries, please contact:
Wyatt Donnelly-Landolt, Small Business and Entrepreneurship Program Director
Mayor's Office of Economic Development
wdonnelly@cityoftulsa.org
(918) 576-5577