Grants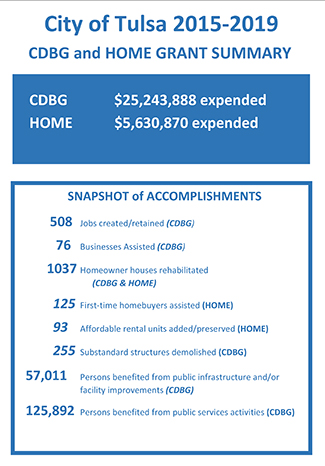 Celebrating NCDA Week in the city of Tulsa and all the contributions made to our community through HUD funding.
---
The City of Tulsa receives federal allocations through Community Development Block Grant (CDBG), Home Investment Partnership Grant (HOME) Emergency Solutions Grant (ESG), and Housing Opportunities for Persons with Aids (HOPWA).
---
Grants Administration coordinates and oversees all aspects of the grant submissions and provides oversight to ensure ethical compliance. In addition, Grants Administration provides support to City departments to ensure the implementation of policies and practices are in compliance with applicable Federal, State, and local laws, regulations, and contract stipulations. Grants also provides expertise in budgeting, reporting and contract and compliance monitoring.