Pay Traffic Tickets Online
Welcome to the E-Payment Information page. This is designed to give you a basic overview of the process used to pay tickets online. To begin the process, simply click on 'Pay Online Now'
Once you have clicked on the button, you will asked to enter your tickets one by one.
You will be able to add as many as 7 (seven) tickets at one time into your shopping cart. You will be able to remove tickets as well from your cart.
When you are ready to pay the amount in full that is listed in your shopping cart, click 'Continue' and you will then be asked for payment information such as name, address, credit card number, etc.
Once you complete your transaction, you can print a copy of the receipt page for your records. We suggest you keep a written copy in your car for at least 30 days after the transaction.
Types of Tickets
There are only 2 basic types of tickets that you will receive from the Tulsa Police Department. The first type of ticket has the word "COURT" in the box located on the ticket. When you get this type of ticket, you cannot pay it online and you must appear in court on the date indicated in the ticket.
The other type of ticket you can receive is one that has a dollar amount listed in the box. Any ticket with a printed dollar amount (regardless of amount) can be paid online. Here are examples for you to view: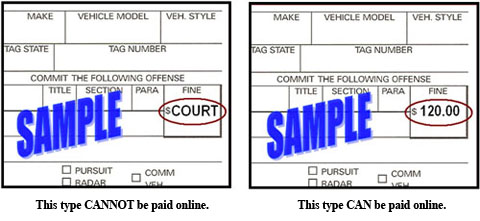 Since this e-payment process is new to the City of Tulsa, we value your input. If you have questions/comments/suggestions, we want to hear about them. It is our hope that this payment process will evolve and expand further to allow for additional types of payments in the future.