PLANiTULSA Comprehensive Plan
PLANiTULSA, the city-wide process to update Tulsa's Comprehensive Plan, created a new vision for the City of Tulsa that reflects the needs and dreams of all our citizens for the next 20-30 years. The City of Tulsa Comprehensive Plan was adopted by the Tulsa Metropolitan Area Planning Commission and approved by City Council in July 2010.
What is the Comprehensive Plan?
The Comprehensive Plan is not a regulatory document. It serves to guide the physical development of the city over a period of time through a set of goals and policies. The policies provide a framework within which individuals, businesses and public officials make decisions that are consistent with the Our Vision for Tulsa in the future. This vision is the guiding document for Tulsa's Comprehensive Plan, and describes the kinds of places, economy, housing and transportation choices, parks, and open spaces that the city's policies should be designed to create.
The development of the City of Tulsa Vision and Comprehensive Plan is based on a set of guiding principles developed by the Citizen's Team during the comprehensive planning process. Documents related to PLANiTULSA and the development of the Comprehensive Plan, are available for download in the Resource and Document Library.
The Comprehensive Plan is implemented and maintained by the The City of Tulsa and Indian Nation Council of Governments. When new developments are proposed in the City of Tulsa, they are reviewed for consistency with the Comprehensive Plan.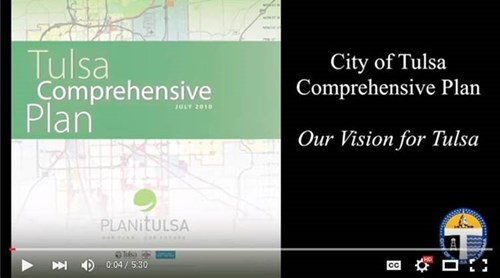 A Strategic Approach
The Tulsa Strategic Plan was developed to prioritize projects and programs to be initiated immediately. These could be funded through the operating budget and future bond election priorities. In addition to guiding future funding decisions, the strategic plan provides a framework to enable and promote public/private partnerships that will result in benefits to the City and its residents.
The Strategic Plan details six initial strategies to implement PLANiTULSA and move the city towards Our Vision for Tulsa.
Revise the Zoning Code- Effective Jan 1, 2016
Conduct Neighborhood and Small Area Planning in Targeted Areas - On Going
Create and Launch a Redevelopment Strategy
Develop PLANiTULSA Building Prototypes as Demonstration Projects
Draft and Launch a New Transportation Strategy - Adopted the Complete Streets Manual
Organize Planning and Development Functions for Implementation - Complete
A new Strategic Plan will be developed in 2016 based on the results of the Progress Report. 
Monitoring Change
With the Tulsa 2030 Goals as targets, a Monitoring Program was developed to review quantifiable measures and track progress towards achieving the Vision. In 2015, 24 indicators were measured and the 296 Action Items outlined in the Comprehensive Plan were reviewed. The 2016 Progress Report provides a summary of the data findings and accomplishments by component for the last 5 years.
As of the end of 2015, 219 Action Items are identified as In Process, Ongoing or Complete indicating that some action has occurred. This means 74 percent of PLANiTULSA's implementation is underway!
Progress Report At-A-Glance Flyer
Contact:
Dawn T. Warrick, AICP | Director
City of Tulsa Planning & Development Department
175 E. 2nd Street, Suite 560. Tulsa, OK 74103-3216
T: (918) 576-5447
F: (918) 699-3623
E: dwarrick@cityoftulsa.org