Partners for a Clean Environment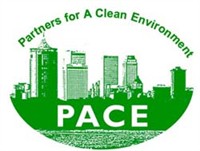 Partners for A Clean Environment is a voluntary, non-regulatory program coordinated by the City of Tulsa's Quality Assurance and Stormwater Quality groups. The program recognizes those who go above and beyond environmental regulations in an effort to be better stewards of our land and water.
Wastewater Best Management Practices
For more information on BMPs, contact Quality Assurance at (918) 591-4378 or the Pollution Prevention supervisor at (918) 591-4381.
For more information on LID or the Adopt-A-Stream Program, contact Stormwater Quality at (918) 591-4325