Peoria-Mohawk Business Park announces Muncie Power Products, Inc. as First Tenant
The City of Tulsa and the George Kaiser Family Foundation is proud to announce that the first tenant of the new Peoria-Mohawk Business Park is Muncie Power Products Inc. Muncie is already a household name in Tulsa for their long tenure as a manufacturing company providing good jobs in the city, and now they are moving and expanding their operation with a new 300,000 square foot facility at Peoria-Mohawk. The $50,000,000 investment comes to North Tulsa as an important stimulus to the local economy, providing quality careers and training to local residents. This announcement allows Tulsa to retain 240 existing jobs while the company grows and hires more workers. For more information on this project, click read more. For more information on Peoria-Mohawk and the potential for siting on it, please click here.
Read More
City of Tulsa Announces Cox Gigabit City Designation
The City of Tulsa is proud to announce that we are now a Cox Gigabit City. This means that all citizens within the City of Tulsa limits now have access to gigabit Internet speeds, or speeds fast enough to download hundreds of movies, music, and photos in seconds. Gigabit speeds throughout the City bring Tulsa one step closer to our goal of being a world-class city with competitive amenities, quality of life, and business opportunities. Cox achieves these speeds through largescale investments in new fiber optic cable and renovations to existing copper lines, including $15,000,000 in the past 10 years devoted to upgrades with another $10,000,000 coming this decade.
Read More
American Airlines Infrastructure Project Complete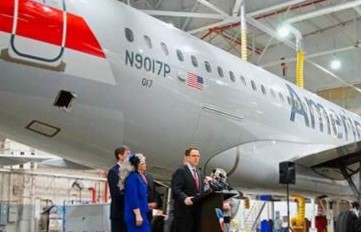 Mayor Bynum and Tulsa City Councilor's celebrate the completion of a Vision Tulsa Airport Infrastructure Project – a new tail slot for hangar doors at the American Airlines Tulsa Maintenance Base. "With the Vision Tulsa sales tax, Tulsans are investing in their city for continued economic development through projects such as this tail slot at the American Airlines Tulsa Maintenance Base," Mayor Bynum said. "This will ensure that maintenance work will stay in Tulsa when American Airlines brings larger, more fuel-efficient aircraft into its fleet. We are proud to continue our many decades of partnership between the City of Tulsa and American Airlines."
SpiritAerosystems Expands Tulsa Operations
SpiritAerosystems has announced an expansion of operations in Tulsa, bringing in an additional 250 employees and an $80 million investment in our city. These new jobs are focused on supporting the manufacture of airplane fuselages for Boeing 747 aircraft as Spirit expands operations and product lines across locations. Spirit will move quickly, starting the build out process and transferring some work from their Wichita base starting in 2019. A full build out is expected in 2021, with investments in machinery, training, and infrastructure through 2022.
Read More
Opportunity Zones Strategy Now Live
The City of Tulsa is proud to announce the launch of our new Opportunity Zones page. Opportunity Zones are a federal tax program that incentivizes new development in low income census tracts. This program will spur development across Tulsa and provide a catalytic foundation for long-term economic development in the areas that need it most. If you have any questions about Opportunity Zones, please feel free to contact Alex Nongard in our office at anongard@cityoftulsa.org.
Read More