Revolving Loan Fund
The Brownfields Revolving Loan Fund (RLF) program encourages the reuse and redevelopment of blighted, contaminated lands, so they can be returned to useful, tax producing properties that generate jobs, create sustainable community growth, and contribute to the local economy.
Who is Eligible for RLF Funds?.
Initially, an eligible applicant is an organization that owns a brownfield. The applicant must be able to document that they did not cause the property contamination, typically through performing a Phase I Environmental Site Assessment prior to purchase. The applicant must also have the capacity to repay the loan and a plan for redevelopment.
How does the RLF Work?
The Brownfields RLF provides qualified applicants with funding to clean up contaminated properties. The money is dispersed in the form of low interest loans.
As the low interest loans are repaid, the loan amount is returned into the RLF and re-lent to other borrowers, providing an ongoing source of lending capital within the city of Tulsa.
Where Can RLF Funds Be Used?
Projects within the boundaries of the City of Tulsa, shown below, are eligible for funding.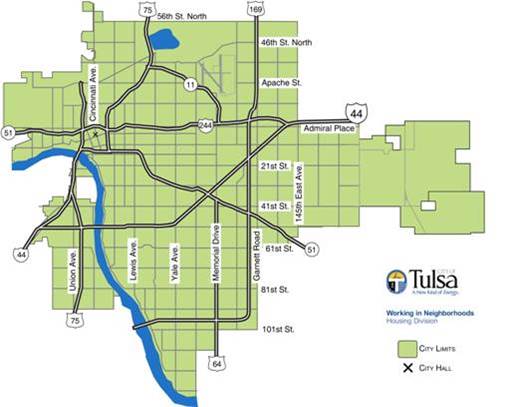 What are the steps in the application process?
Download the flow chart for the application process.
What Are the Loan Conditions?
RLF loan awards are directed toward areas of strategic growth as well as economically disadvantaged areas.
Loans are designed to balance the needs of the borrower, while ensuring RLF program sustainability. Terms of loan repayment are typically in the range of three to five years with a 0- 2.5 percent interest rate. In order to maximize the distribution of RLF funds and ensure buy-in from all parties, a cost match of 20 percent may be required. Past loan amounts have ranged up to $600,000, depending upon project need as well as fund availability.
Payment plans are negotiated on a project specific basis but must include a plan to convert RLF bridge financing to long term financing. As loans are repaid and supplementary funds received, additional loans will be made available.
How Do I Apply?
Applications are welcome throughout the year. The application is included under Documents. Instructions for completing and submitting the application are included in the document.