Opportunity Zones
Opportunity Zones are a new federal tax incentive approved by Congress in the 2017 federal tax plan. They are a way for investors to reduce tax payments on gains while investing in projects within certain geographical areas, defined as low-income census tracts as established by the Governor's office. For more detailed information on Opportunity Zones, please see this Opportunity Zones overview.
The City of Tulsa has designated 19 census tracts as federal Opportunity Zones, encompassing a diverse swath of the city that provides something for every investor. Please explore our interactive web map to understand the people, assets, and opportunity within each area. Select the layers icon to change what features are visible on the map, and click around for more information.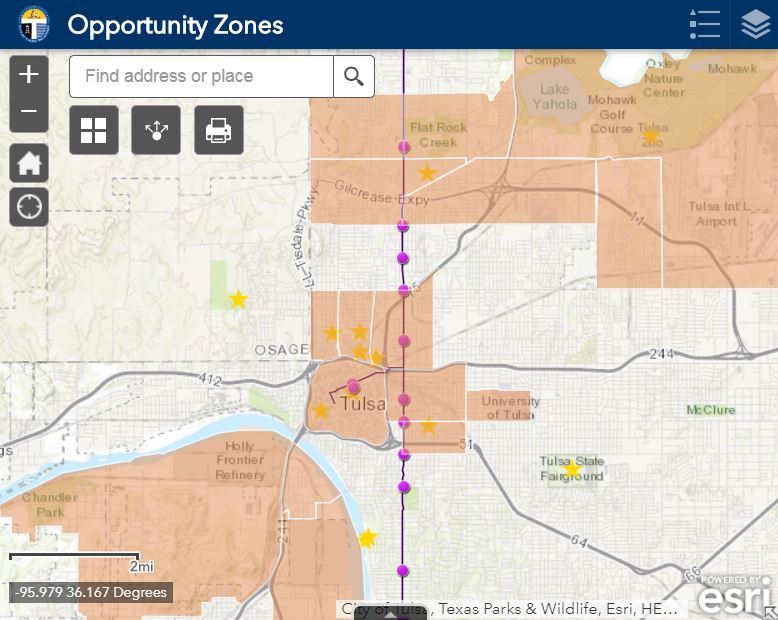 Each Opportunity Zone has a story to tell – be the next investor to make the smart choice and fund a project in an Opportunity Zone today. Below are Story Maps and other resources on each cluster of Opportunity Zones in the city.
For more information on the program or how to self-certify as a Qualified Opportunity Fund, please see this resource from the IRS.
Story Maps
To help you understand the unique characteristics of the different Opportunity Zones in Tulsa, we have created interactive Story Maps to show you what each group has to offer. 
Cut sheet:
Cut sheets:
Cut sheets:
Cut sheets:
Cut sheets:
Contact Information:
City of Tulsa Mayor's Office of Economic Development
Spencer Mitchell, Economic Development Specialist
smitchell@cityoftulsa.org | (918) 576-5561
Tulsa Economic Development Corporation
Rose Washington, Executive Director, Tulsa Economic Development Corporation
rose@tedcnet.com | (918) 585-8332