Permitting
Electrical Contractors: Weatherhead permitting costs are currently waived. The City is working to expedite these permits. Learn More. 
---
Self-Service Portal | Tutorials | FAQ  | Address Request Form
Development Services Permitting responsibilities: 
Promotes the safety, livability, and economic growth of the City of Tulsa
Permits all development within the city
Proposes building code revisions to the Ordinances of the City of Tulsa
Registers the licenses of trade contractors
Maintains permit records
Reports construction statistics
Permitting has two major sections:
---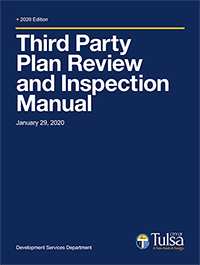 Third Party Plans Review and Inspection Program
To allow for faster plan reviews and inspections for development projects, the City of Tulsa has a Third Party Plans Review and Inspection Program. Developers may choose a third party provider that has been approved by the City of Tulsa to review plans and conduct inspections. This approved provider is authorized to recommend issuance of building permits and certificates of occupancy.
For details, see the Program Manual
---
Quick Links:
Forms, Applications, Booklets:
New! Certificate of Occupancy Process
Infrastructure Development applications and forms
Permit Center applications and forms
Procedure booklets
Trade licensing applications and Stationary Engineer requirements and testing information
Yard and Campaign Sign Guide
Codes, Fees:
Current Codes, Ordinances and Standards
Full fee listing for permits, plans review and inspections
175 E. 2nd Street, 4th Floor | Tulsa, OK 74103 | (918) 596-9456 | Directory
Permit Center Hours: Monday through Friday, 8 a.m. to 4 p.m.