Urban Data Pioneers
On May 17, 2018, Cities of Service Named Tulsa as one of three winners worldwide for the Engaged Cities Award. Learn more...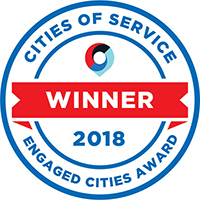 Urban Data Pioneers is a program that empowers teams of city employees and community members to work in teams to deeply understand questions through data analysis. UDP teams meet to identify a problem, ask questions, analyze data and produce a visual analytic report. The goal of Urban Data Pioneers is for teams to learn data analysis techniques together and inform the Mayor city leadership with analysis of data that leads to policy. If you are a community member, and want to join the UDP teams please complete this form.
Mission
Improve the use of data throughout the City of Tulsa. 
Vision
Urban Data Pioneers are the trailblazers within the City of Tulsa who lead the way in identifying best ways to utilize data, educating others, and delivering results based upon data.
---
To stay up to date on UDP meetings and events, complete this form
---
Cohort 7 - COVID Edition (March 5, 2020 - May 28, 2020) | Watch the Presentations
Cohort 6 (September 5, 2019 - November 21, 2019)
---
Cohort 5 (May 7, 2019 - July. 25, 2019)
Cohort 4 (Sept. 6, 2018 - Nov. 29, 2018)
Rising Eviction Rates: The Path to Stabilizing Tulsa's Tenancy Crisis
Cohort 3 (October 6, 2017 -  Jan. 19, 2018)
Cohort 2 (June 9, 2017 - August 18, 2017)
Blight Inventory
Final Presentation Agenda
Cohort 1 (Feb. 24, 2017 - April 27, 2017)
Population Growth (no slides)