Employment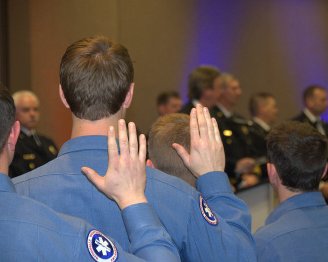 ---
Effective July 1st, the hiring age will change from 21-45 to 18-45 years of age at the time of hire date. Read more on the minimum requirements.
---
Selections and notifications for the January 2019 Tulsa Fire Department Academy class have been made by the Fire Chief and his staff. Congratulations to the thirty applicants who were selected for the class as well as those who were selected as class alternates. If you were not selected for the January 2019 class, remember that the written exam is valid for two years from your test date. You must then begin the entire testing process over to be eligible for future hiring consideration. It is also your responsibility to notify the Testing Coordinator of any updates for your file. Thank you for your interest in the Tulsa Fire Department.
Please read all instructions carefully. You must follow the procedures below to test. Failure to do so may result in elimination.
IMPORTANT UPDATES!! Please read carefully.
First Quarter testing begins January 7, 2019. You may schedule the entry-level exam by calling the City of Tulsa Employment Office at (918) 596-7427. You must speak directly to staff to schedule. All exams will take place at City Hall, 175 E. 2nd Street.
Each candidate must arrive at each appointment (Physical Agility Test, Structured Oral Assessment and Background Interview Questionnaire/Chief's interview) at least 30 minutes prior to their scheduled appointment. A candidate that does not show up or cancels without giving 24-hour notice to any portion of the test, must wait six months to be eligible to re-enter the testing process with the written test.
Candidates must receive a passing score to be placed on the Chief's hiring list. If you are not placed on the hiring list you will have to restart the process again with the written test after six months.
All BIQ updates must be submitted in writing to a Human Resources designee.
All candidates will be asked to sign and agree to the rules and processes prior to testing (Download Agreement)

Please see Selection Process for additional information about testing.