Mayor's Commission on the Status of Women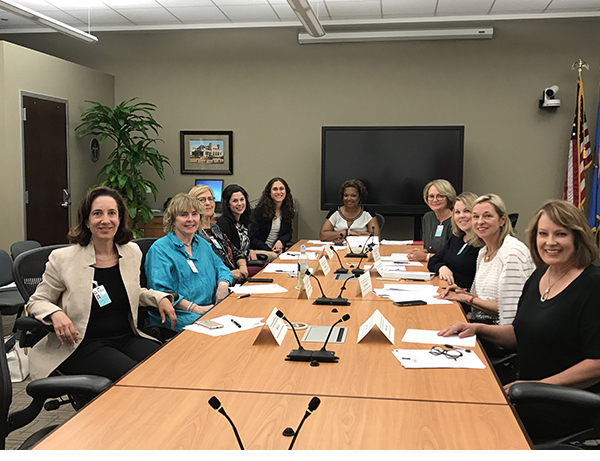 Pictured left to right: Janet Levit; Dana Weber; Deidra Kirtley; Susan Bynum; Guest Speaker Sophia Pappas; Carmela Hill, Chair; Vicki Adams; Meg Morgan; Dr. Jill Warnock; and Karen Larsen
Members of the Mayor's Commission on the Status of Women met at City Hall Friday, June 1, 2018 continuing to pursue the Mayor's goals of investigating opportunity for positive change in the workplace for women and welcomed Sophia Pappas as this month's guest speaker.
Sophia Pappas is the Managing Director of B.E.S.T - Birth Through Eight Strategy, a George Kaiser Family Foundation program. The B.E.S.T. program was created to serve families fighting generational poverty using a multi-prong approach of continuum of support to improve the conditions for success for over 40,000 families with children born into poverty in the city of Tulsa. 
The Commission acts as the central clearing house and coordinating agency for activities and information relating to women.
Gaps in the Road Map for Nonviolent Justice-Involved Females in Oklahoma
Female Incarceration Action Plan

Committees:
Pinnacle Awards | Legislation | Health | Women in Business
The Work of the Commission
Stimulate research in the area of women's legal rights.
Educate the community on the status of women by publicizing, in all appropriate ways, information on women's rights and obligations.
Review the range of services available to women to enable them to fully contribute to society through their homes and participation in community life.
Responsible for strengthening existing services and assist public, commercial, cooperative or voluntary agencies in pursuing needed services.
---
All Commission meetings are open to the public. The full Commission meets on the first Friday of each month at noon - City Hall, 175 East 2nd Street. We welcome your questions, comments, ideas and participation. If you would like more information or want to be on our mailing list, please contact us. (2018 Schedule) (Agendas)
Contact:
Mayor's Office for Human Rights
City Hall
175 East 2nd Street, 6th Floor
Tulsa, Oklahoma 74103
(918) 596-7818