Mayor's Commission on the Status of Women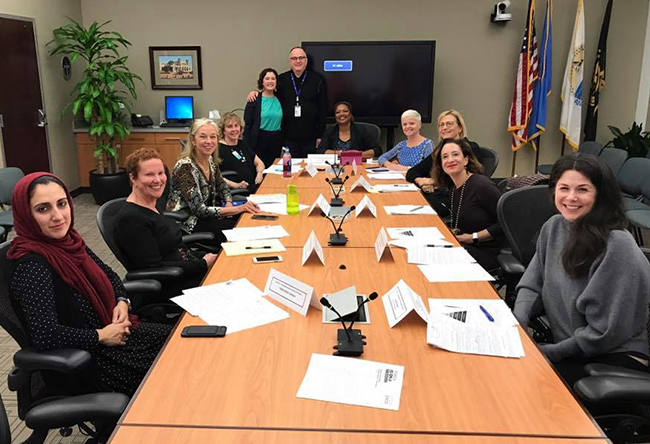 Pictured: The November meeting of the Mayor's Commission on the Status of Women included a presentation of information on the latest programs that are actively serving and assisting the mentally ill in the Tulsa community. Melissa Baldwin, Director of Justice and Policy and Michael Brose, CEO of the Mental Health Association presented the information. Baldwin and Brose explained there are numerous collaborative and community-wide efforts designed  to help people access the resources they need to avoid incarceration, increase public safety while reducing the jail population – especially for people with mental illness, as well as ensuring resources are used efficiently to provide better outcomes at lower cost to taxpayers. Look for a listing of these programs and contact information here soon. 
The Commission acts as the central clearing house and coordinating agency for activities and information relating to women.
Gaps in the Road Map for Nonviolent Justice-Involved Females in Oklahoma
Female Incarceration Action Plan

Committees:
Pinnacle Awards | Legislation | Health | Women in Business
The Work of the Commission
Stimulate research in the area of women's legal rights.
Educate the community on the status of women by publicizing, in all appropriate ways, information on women's rights and obligations.
Review the range of services available to women to enable them to fully contribute to society through their homes and participation in community life.
Responsible for strengthening existing services and assist public, commercial, cooperative or voluntary agencies in pursuing needed services.
---
All Commission meetings are open to the public. The full Commission meets on the first Friday of each month at noon - City Hall, 175 East 2nd Street. We welcome your questions, comments, ideas and participation. If you would like more information or want to be on our mailing list, please contact us. (2018 Schedule) (Agendas)
Contact:
Mayor's Office for Human Rights
City Hall
175 East 2nd Street, 6th Floor
Tulsa, Oklahoma 74103
(918) 596-7818