Central Center in Centennial Park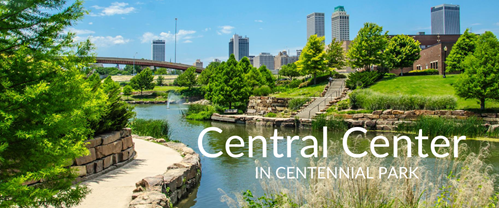 We are happy to announce that our community and specialty centers are reopened, as of June 1, 2020. However, centers have temporarily limited their hours and programs as well as implemented updated health and safety policies. Please see below for updates specific to Central Center in Centennial Park.
Address: 1028 East 6th Street
Phone Number: (918) 596-1444
Email: kirkmace@cityoftulsa.org
Facebook: @CentralCenterinCentennialPark
Monday: 9 a.m. - 5 p.m.
Tuesday: 9 a.m. - 5 p.m.
Wednesday: 10 a.m. - 7 p.m.
Thursday: 9 a.m. - 5 p.m.
Friday: 9 a.m. - 1 p.m.
Saturday & Sunday: Closed
Our facilities will be closed on the following City holidays in fall:
Monday, September 7 for Labor Day
Wednesday, November 1 for Veterans Day
Thursday-Friday, November 26-27 for Thanksgiving
Buildings hours are subject to change without notice. For staff safety facility may close falling conclusion of last activity. Please call ahead of arrival for more information.
---
Tulsa Parks Response to COVID-19 Pandemic
The City of Tulsa's Park and Recreation Department re-mains committed to ensuring the safety of our staff and residents ,and continues to consult with the Tulsa Health Department and CDC guidelines. Please note the following temporary practices and protocols are in place at our center:
Building hours and programs are subject to change in response to health guidance and protocols, including additional restrictions, rescheduling and/or cancellations.
Online registration is available at

 

https://guide.tulsaparks.org/

 

and is the preferred method of enrollment and payment for most programs and events to reduce your wait time and increase safety.
Masks are required for anyone to enter the facility and temperature and contact information will be taken.
Each program will have a unique set of health and safety guidelines for the activity/event.
Additional updates and policies will be communicated by center staff as well as posted here and our social media accounts.
General Policies Required Up Entry to Facility
Please do not enter if you are feeling sick or are experiencing COVID-19 symptoms.
Enter only through designated entrances and exits (directional signage is in place).
Face covering MUST be worn to enter the building (may be removed for physical activity).
Must sign in at front desk AND scan your Tulsa Parks ID card.
Temperature checks for anyone entering building.
Wash hands with soap and water or use hand sanitizer.
Always maintain physical distancing of at least 6 feet.
No group gatherings allowed.
---
With spectacular views of the Tulsa skyline, Central Center in Centennial Park is an ideal location for such special occasions as weddings, receptions, reunions and community events.
Central Center's amenities include: an auditorium with stage, fitness room, visual arts room, commercial kitchen, and several meeting rooms. Overlooking the pond is the Vista Deck that hosts many outdoor events. Find out more about renting Central Center.
The beautiful 12,500-square-foot Central Center is just west of 6th and Peoria and overlook Centennial Park with its plush landscaping and water features.
---
Our Programming
Classes, activities, events, meetings and programs are scheduled throughout the year based on the season. Due to the COVID-19 pandemic, our current programming through the end of the year is limited and we have updated rules and guidelines in place for specific programs.
Fall Recreation Program Enrollment Opens August 1
View Central Center's Fall Program Guide for youth, family, adult and senior programs, including health and fitness programs and services, education and leisure activities, and music and dance clubs! 
Fitness Room | 9 a.m. - 5 p.m. | $2 drop-in, $15 for 20 visits & Ages 55+ are FREE

PLEASE NOTE: During this time, we have put revised fitness room policies in place for our staff and resident's safety.

Health & Fitness

POUND Workout (Ages 16+)

Wednesday, 5:30-6:30 p.m

Cost: First visit FREE | $5 drop-in class | $40 for 10 classes

Channel your inner Rockstar with this cardio-jam session inspired by the energizing, infectious and sweat-dripping fun of playing drums. Instructed by Angela Schoenrock.

"These Feet Are Made for Walking!" Challenge

September-November | FREE
Log the walks you and your family take with the number of miles and Tulsa Park location, then turn in your log at the end of the program. The family with the most miles wins a $25 gift certificate good at any Tulsa Parks Recreation Center. Participants aged 12 and younger will receive a "foot" after their first mile, and will receive another "foot" for every 5 miles logged there after. To register, contact Central Center staff.

Education, Leisure, Music & Dance

Accordion Band Club (All Ages)

Wednesdays, 10 a.m. - Noon | FREE
Accordion players can learn new songs and share their interest.

Line Dance Class (Ages 12+)

Tuesdays: 5-6 p.m. beginner class | 6-7 p.m. advanced class
Cost: $8 per class
Join this wonderful class and learn all forms of line dance styles, from country to pop styles. Instructed by Paul and Anita Hardy.

Puppy Obedience Class (All Ages)


Tuesdays & Thursdays, Sep. 8 - Oct. 1, 5-6 p.m.
Cost: $30 for a puppy adopted from a Tulsa Animal Welfare shelter | $35 for other puppies enrolled before Sep. 1 | $40 for other puppies enrolled after Sep. 1

Stitching 101 Class (Ages 12+)

Tuesdays, Sep. 15 - Oct. 20, 1-2 p.m.
Cost: $35
Experience the art of stitching and embroidering. Design your own textile and become a master! Instructor Vicki Giger will teach the basic techniques and help your skills to grow. All supplies are included.

Swing Dancing (Ages 12+)

Thursdays, 6-7 p.m.
$5 per class
Learn the steps and moves to become a great swing dancer with this no frills, easy-to-follow dance class. New social distancing and safety measures are currently in place. Instructed by Pam Butler.

Special Events & Online Adaptive Programs

Bird Scavenger Hunt (All Ages)

September-November | FREE
All of you bird enthusiast and photographers of all levels can take part in this fun bird photo scavenger hunt. Beginning September 1, check the Central Center Facebook event page each week for the bird that has been chosen to be photographed. Submit your photo(s) and in which Tulsa Park(s) they were taken to our Facebook event page, and that week's photos will be posted for display.

Virtual Fishing Tournament (All Ages)

September 1-30 | FREE
This fun fishing tournament is a great way to win your "bragging rights" in the fishing community. You can fish in any of these Tulsa Parks ponds: Braden, Centennial, Crescent, Hunter, Leake, Minshall, Mohawk, and Owen.Document your catch size, park location and photo, then submit it to our Facebook event page. Pre-registration and a current fishing license (for ages 16+) required. Only catch-and-release fishing allowed. Sign up at Central.

Youth Fishing Derby (Ages 6-15)

Saturday, Sep. 26, 7-10 a.m. | FREE
A fun way for kids and parents to spend time together fishing in the Centennial Park pond. There are three age categories, 6-8 years old, 9-12 years old, & 13-15 years old. Prizes will be awarded in each age group. Competitors must provide their own fishing gear and bait/lures for this event. Registration begins at 6:15 a.m. on the morning of the derby. Pre-registration is also available at Central Center or online. For more information, or to be a volunteer, contact staff at Central Center.
Events & Rental Rates
Due to COVID-19, some of our rooms will not be available for rental. Below are the two options we have available at this time. For more information on our policies and restrictions during COVID-19, along with amenity changes, contact Central Center or visit our website at www.tulsaparks.org.
Auditorium (Includes Vista Deck and Atrium)

Weekdays: Mon.—Thurs. $125

/hr

Weekend: Fri. & Sat. $200/

hr

Current maximum capacity is 48 people

Activity Room 2/3

Weekdays: Mon.—Thurs. $75

/hr

Weekend: Fri. & Sat. $125

/hr

Current maximum capacity is 15 people
Information below reflects our rates and policies under normal circumstances.
Central Center has the space for your event. From small classrooms and meeting spaces to the spacious (150-180 capacity) Auditorium, Central Center can accommodate your needs. The flexible rental rates include three set 'packages' as well as hourly rates available.  Please note: 'Weekend' includes Friday and Saturday.
A $100 NON-REFUNDABLE fee is required to reserve your rental space (applies to your rental fee). Complimentary set-up and use of Central's tables & chairs are available. Central staff is not responsible for set-up when the party is using tables and chairs from other rental vendors. Please review all rental regulations and responsibilities (above) prior to booking your event.
If you have questions or need additional information, please call Central Center at (918) 596-1444.
---
Tell Us What You Think!
After your involvement with a Park program or activity, please take a few moments to complete an Evaluation Form. Thanks!