Permitting
175 E. 2nd Street, 4th Floor | Tulsa, OK 74103 | (918) 596-9456 | Directory
Permit Center Hours: Monday through Friday, 8 a.m. to 4 p.m.
---
Important Notice:
The City of Tulsa Council adopted new Administrative, Permit and License fees on November 11, 2017. They go into effect on April 16, 2018 . A copy of Title 49, Ordinance 23814 is available for your review.
Starting April 30, the City Permit office will no longer accept Health Department plans for food related projects or projects on a septic system. Applicants will be required to submit plans directly to the Health Department located at 5051 S 129 E Ave.
---
New Permitting System
On April 30, the City of Tulsa will launch an online self-service portal for permit applications. This will provide a brand-new customer experience going forward, and allow developers and their representatives to instantly obtain more information about new permits in process.
The new self-service portal will be available only for new permits filed once the system goes live on April 30. Applications and active projects initiated prior to April 30 will be handled in the same way as they are now, through their completion. The table below illustrates how projects will function during this initial transition period: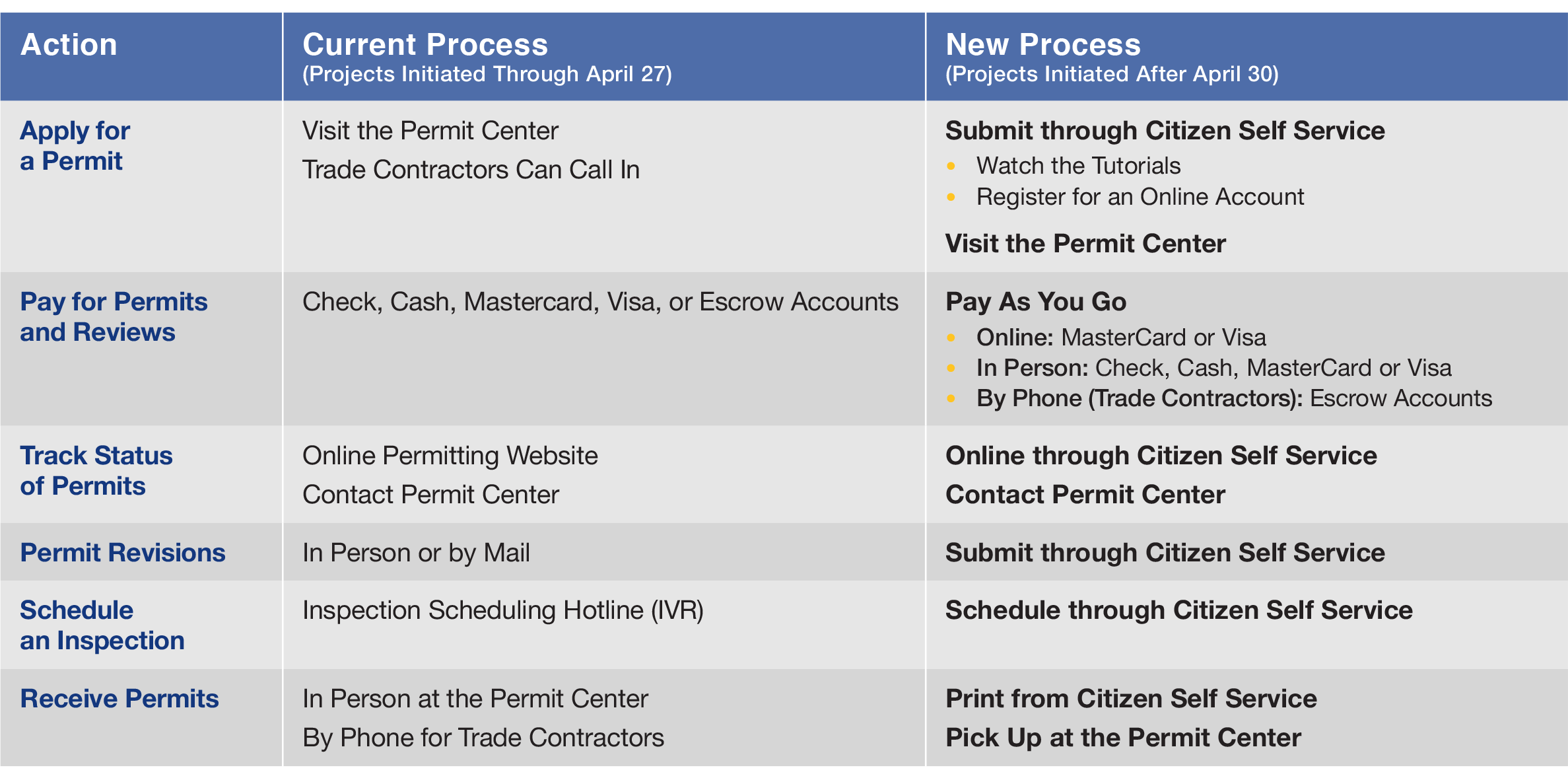 Here are a few things you should know about the self-service portal…
What's New: The new self-service technology allows the developer/applicant to register an account and apply for permits, schedule inspections, track the project status, add users to projects, and much more.
Tutorials: When the system launches, online tutorials will be available to provide a hands-on look at the system. Links to the tutorials will be prominent on the self-service landing page and will include visuals to show customers how to enter the system, register and access information.
Presentations: If you are part of a professional organization that has members who frequently use our system, we invite you to give us a call and request a presentation at one of your meetings. Contact our Development Services customer liaison, Keri Fothergill at kfothergill@cityoftulsa.org to inquire.
In-Person Training: If you are interested in an in-person walk-through of the system and training on how to create an account, apply for a permit, schedule an inspection, or track the status of a project, we will be offering trainings at City Hall for individuals or groups. Contact our Development Services customer liaison, Keri Fothergill at kfothergill@cityoftulsa.org to identify a training time.
Public Features: Ultimately, the system will also make it easier for the public to find information on permits and neighborhood code violations. Basic information about building permits and Working in Neighborhoods Department's code enforcement cases will be accessible without registering for an account.

Welcome to Development Services Online
Quick Links:
Make an Appointment at the Permitting Center
Contractor Deposits Online
Check Status of building permit applications
Map of open permits within Tulsa City limits
Pre-submittal and pre-construction meeting Information
Forms, Applications, Booklets:
Infrastructure Development applications and forms
Permit Center applications and forms
Procedure booklets
Trade licensing applications and Stationary Engineer requirements and testing information
Codes, Fees:

Current Codes, Ordinances and Standards
Full fee listing for permits, plans review and inspections

Contacts, News:
Department contacts
Announcements and news
Development Services Division Assessment - 2016
---
Brownfield Program
The Tulsa Brownfield Program was established in 1990 with a grant from the Environmental Protection Agency for the assessment of potential brownfield properties. The program includes a local Revolving Loan Fund to support brownfield clean up activities on private property. A brochure on the Brownfield Program Revolving Loan Fund is available for additional information and guidance.
---