My Watershed Map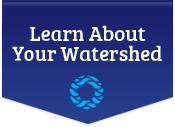 What is a watershed?
A watershed is an area of land where all of the moisture that falls on it flows into the same waterway.
A watershed can be as small as a backyard or many thousands of square miles. For example the watershed most Tulsans are familiar with might be the Arkansas River. The Arkansas River begins in Colorado's Rocky Mountains and flows 1,469 miles to the Mississippi River. It drains parts of seven states, including Colorado, New Mexico, Kansas, Texas, Oklahoma, Missouri, and Arkansas - a watershed of 168,002 square miles. This makes it the 9th largest watershed in the U.S.
Why are watersheds important?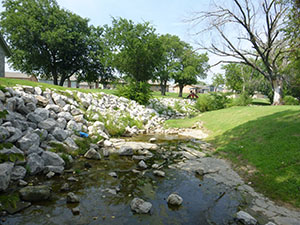 Tulsa is required, under the Clean Water Act, to eliminate sources of pollution in its stormwater runoff. Knowing the boundaries of a watershed where pollution originates can help find the pollution source.
Many things cause pollution in streams including things we wouldn't normally think of: grass clippings, pet wastes, leaking vehicle fluids, sediment, trash, as well as many other things listed online.
Learning about what watershed you live in can help you learn about issues that may affect your health and safety, such as flooding and pollution.
Tulsa's Stormwater Quality Section began conducting stream sampling on 30 of Tulsa's largest watersheds in 2012. As we learn more about the health of these streams we will share more information with the public on these waterways.
Tulsa is a beautiful city with wonderful natural areas. Its streams need to be recognized as a community asset given their function and beauty. We hope the "My Watershed" tool enables you to learn more about Tulsa's wonderful streams.