Trap the Grease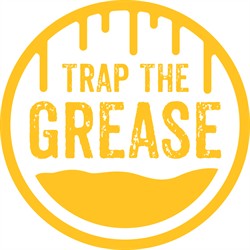 In the city of Tulsa, cooking grease is one of the major causes of residential pipeline and City sewer blockages. The spilled sewage eventually reaches Oklahoma streams and rivers, causing unsafe conditions.
1...2...3
By following a few simple steps, you can help prevent costly sewage overflows in the future.
Step 1
All fats, oils and grease should be poured into a coffee can, or other durable container, and disposed of in the trash can, not down the drain.
Step 2
Dishes and pots that are coated with greasy leftovers, should be wiped clean with a paper towel before washing or placing in the dishwasher. Toss the paper towel in the trash can.
Step 3
Scrape all scraps into the trash. Don't put any scraps in the garbage disposal. Dispose of them in the trash can or compost.
Important Facts
Cooking grease coats pipelines in a way similar to the way that fatty foods clog human arteries. The grease clings to the inside of the pipe, eventually causing complete blockage.

Grease should NEVER be poured down the drain. Running hot water and pouring detergent down the drain only breaks up grease temporarily. As the grease moves through the pipe, it separates from the water and begins to coat the pipe.

Flushing grease down the toilet also causes sewer blockages.

Many foods are sources of fat that, with grease, can clog pipes:
Recycle waste cooking or frying oil at these Tulsa M.e.t. locations:
2019 E. 81st
9:30 a.m. - 4:30 p.m. daily
3495 S. Sheridan
9:30 a.m. - 1:30 p.m. daily
12466 E. 21st St.
Monday- Sunday
9:30 a.m. - 1:30 p.m. daily
1101 S. Cincinnati
9 a.m. - Noon


You can also drop off grease, cooking or frying oil at the Household Pollutant Collection Facility.
Report Sewage Overflows
If you see, hear or smell something you think might be a sewer overflow, report it immediately by calling (918) 586-6999. Be prepared to describe the location.
Frequent PACE businesses
PACE provides free prevention training, public outreach, and technical assistance to those who have made the PACE pledge. PACE is a voluntary program which recognizes those who go above and beyond environmental regulations. Please visit PACE online.
For more information on the Grease Program for Businesses, contact Damon Morris (918) 591-4381 or email.