Mayor of Tulsa
---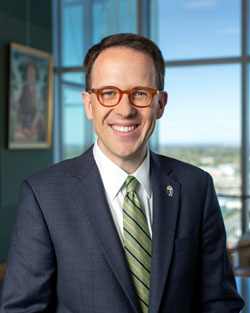 Fiscal Year 2023-2024 Annual Budget
The approved Fiscal Year Budget is now available online. 
Speech | Presentation | Budget
---
2022 Annual Report
"2022 was a year of incredible economic growth and historic investment in our city. The overwhelming successes that we saw this past year have allowed us to hit the ground running in 2023 as we continue to work together to address our greatest challenges and move our city forward." – Mayor G.T. Bynum
2022 Annual Report | Watch the Video
---
FY 2022-23 Budget
The $944.9 million budget includes raising the minimum wage for all full-time positions to $16 an hour, new classes for both police and fire, and $2 million toward the implementation of the Kirkpatrick Heights Greenwood Master Plan.
---
2022 State of the City
Mayor G.T. Bynum presented his 2022 State of the City speech Tuesday, November 15, 2022.
---
Initiatives
1921 Mass Graves Search |  A Better Way | AIM | Community Policing | New Tulsans | Resilient Tulsa | Vision Tulsa | Housing