Innovation Champions
Interested In Becoming an Innovation Champion?
The spring 2019 course will begin on February 5th. Information about the course and class dates and times is available here. If you're interested and available, you can sign up with your department's GeoTalent registrar. Please send any questions about the program and requirements to  pmacias@cityoftulsa.org.
About the Innovation Champion Program
Innovation Champions play an important role in making our City government more efficient.
Our Mission: To foster a continuous improvement culture that properly balances efficiency and innovation with reliability and quality. 
Our Vision: The City of Tulsa will embrace the culture of curiosity and innovation at all levels.
Our Values:        

Customers. We are dedicated to listening to customers, understanding their needs, and aligning processes to honor our commitments to them.
Integrity. We act and lead with honesty and integrity, never compromising the truth.
Breaking down barriers to improvement. Innovation and improvement happens when people feel safe enough to try new things. We know there can be roadblocks to trying new things and we believe in helping employees get past those so that they can be empowered to continuously improve their work.
High expectations. We expect excellence in our work, our organization and the City we are building.
Teamwork. We work together toward common goals.
Our Motto:  Teach. Improve. Serve.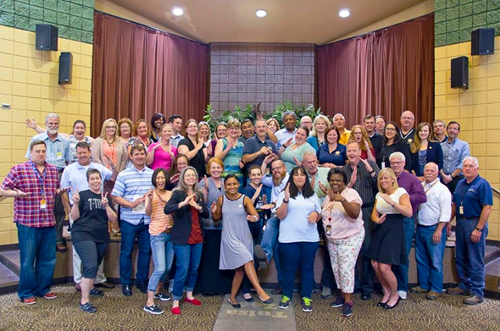 Innovation Champions at the Summer 2016 Graduation.
Examples of Completed Innovation Champion Projects
5S at AB Jewell Water Treatment Plant
Nitrification Control in Water Distribution System
Identifying the Voice of the Customer (VOC) with Tools
Onboarding, Orientation, and Training New Hires
5S at Refuse Inspections Offices
Office 5S at the City of Tulsa
Reducing Errors in City Council Agendas
Improving Employee Progressions
Increasing Customer Care Agent Availability
Physically Limited Refuse Approvals
Creating & Centralizing Procedures for Right-of-Way
Improving Evidence Retrieval Wait Times
Program Impact
In spring of 2018, we surveyed the managers and supervisors who have Innovation Champions in their work groups. Of the respondents, results were as follows:
100 percent agree that the program provides value and improvements to the entire organization
95

 percent 

agree that the program provides value and improvements to their department
86

 percent 

agree that the program provides value and improvements to their work group
63

 percent 

agree that the program provides value and improvements to customers
When asked how the program could be improved, responses included:
Share past projects 
Increase training opportunities
We should utilize these people more
As a result, we have added the project examples (see above) and will continue to update those as more projects are completed. We are working on creating an online course for how non-Champions can best participate in projects. And we created a form for anyone to request assistance from champions (see below).
Need Innovation Champion Assistance?
Innovation Champions can assist leaders and teams with their needs to improve processes or results. If you're interested in finding an Innovation Champion who can help you with your improvement needs, please fill out this formand we will work to get you started on the road to improvement.