On the Road to Innovation - Learning with a Wrench Program
By Penny Macias | April 23, 2015
Innovation is the current buzzword around the country. Cities are focusing more on innovating and finding new ways to deliver services to citizens and solve challenges - all while working with reduced budgets. Our own Equipment Management Division (EMD) of the Asset Management Department is a great example of innovating to solve problems.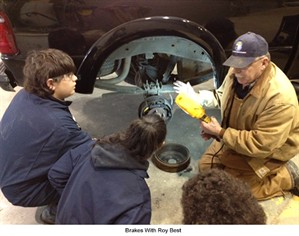 The EMD group is responsible for maintaining a fleet of approximately 3,500 vehicles and heavy equipment. During his first term, Mayor Bartlett acknowledged that Tulsa must have a skilled workforce in order to competitively attract businesses to operate within the city. He also noticed the challenge of having many high school students directly entering the workforce upon high school graduation which can make them less likely to command higher-wage positions.
From a partnership between the City of Tulsa and Union Public Schools the EMD group created a hands-on internship for high school students. The Learning with a Wrench Program began in the fall of 2014. The first class, which was expected to have about four students, has a total of nine students participating.
At the beginning of the program, students had to spend a significant amount of time in a classroom type environment where they learned about safety and the tools they would be exposed to during the internship. Upon completion of the safety training, the students then began working on actual City of Tulsa equipment and vehicles under the supervision of skilled technicians. Throughout the year, students have been offered the opportunity to take online training classes to become Ford-certified technicians.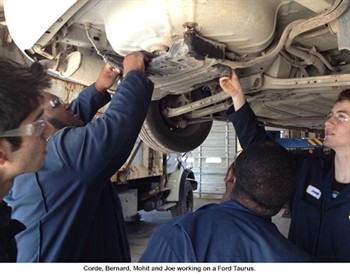 When asked how successful the program has been, Gary Burr, Shop Supervisor (who has worked closely with the students all year), noted several City employees being able to give these students in our community the guidance to make the best choice for their next step. One student will begin studying at the University of Oklahoma in the fall. To help pay for his college, he will be working at a car dealership and earning $13 per hour because of the certification and experience he has gained in the program. Another student learned enough to know she was interested in pursuing an IT - Automotive education through Oklahoma State University. She will start that program in the fall.
Along with mentoring and teaching students, the EMD employees have experienced a higher morale in their work groups and a pride in knowing they are impacting the lives of kids who share a similar passion - mechanical operations. Gary Burr, summed it up as, "An experience like nothing I ever expected."
As of today, there are six students on the list to participate in the program for next year. Cheers to the EMD team who took a chance to do something different and benefited more than they ever thought possible.
How is your team innovating? Let us know, so we as a City can celebrate with you.