Progress Report
By Robyn Undieme | June 18, 2015
It's time again to report the exciting progress we've made since our relaunch in March. During March, April, and May, we received 22 submissions of ideas through Idea Basecamp.
A summary of the past three months includes the following submissions: five for cost savings, seven process improvements, six relating to customer service, and four revenue generating ideas. So far, Water and Sewer has submitted the most ideas, followed by Asset Management.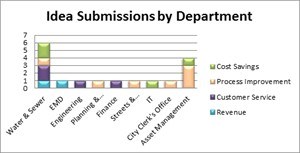 In the past three months, I've had the opportunity to make presentations to many of you and your departments and some have asked me to share what ideas have been submitted. So I wanted to share a few ideas with you and the progress that's being made in today's blog.
Idea One: Install Twice the Ice machines by the CNG fueling stations to make ice available to City employees and open a new revenue stream by selling ice to the public. Progress: We're currently working with EMD, Asset Management, as well as the employee who submitted the idea to identify potential locations, and run a business analysis. We have also reached out to vendors for demos.
Idea Two: We received two separate ideas about our surplus auctions. One suggestion is to move the auctions to an online forum rather than a live auction. Another one is for our employees to run the auctions in-house rather than hiring an outside contractor. Progress:I've met with the Purchasing Department to discuss this and we've put these ideas on hold until the late fall in order to free up time and resources. Then we will run some pilots to assess the feasibility and costs/savings of each idea.
Idea Three: Increase accessibility of training to employees, both new and existing/promoted employees. Progress: A few MAAP Champions met with Human Resources, the Communications Department and the employee who made the suggestion to identify a number of areas where training is lacking. We're in the process of now identifying which format for each type of issue or training would be best (for example, "how-to" documents/manuals, seminars/workshops, or "how-to" videos).
Idea Four: Automate the P-Card process. Rather than sending in paper receipts, employees would submit a scanned version to save on paper, ink, and duplication of process. Progress: Accounts Payable, a couple of MAAP Champions and the employee who submitted this idea are working together to create a pilot program. The intent is to help us identify what to include in the upcoming ERP system and for the City to begin moving toward automated processes.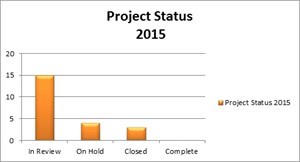 Hopefully this update gives you a sampling of the types of ideas coming in. There are a lot of really great ideas! I will continue to share more of them with you every so often.
One request I received not long ago was to share why an idea might not go anywhere.  So far we've had three ideas that have been closed for various reasons. One idea had actually been tried last year and didn't succeed. Another idea was closed because the City has tightened its security measures and the third idea was closed because we don't have the technology in place to automate a particular process just yet.
If you've been thinking about an idea, but aren't sure if it's a good one, I encourage you go ahead and submit. The MAAP Office and the MAAP Champions are happy to work with you to refine the idea. You never know where it can lead! You can also submit your idea toIdea Basecamp.