Who Let the Dog Out?
By Robyn Undieme | March 24, 2016
Some people like to people watch; I on the other hand like to interview people about what they do for a living. I find careers to be fascinating and here within the City we have a diverse set of jobs from which to choose. About a month or two ago, I decided to do a ride-along with Animal Welfare to learn more about what their employees do, day in and day out.
Meet Denver Rice. He's been with Animal Welfare for nearly five years and was gracious enough to let me shadow him for a few hours. Denver first began working as a Kennel Worker in Animal Welfare; his primary responsibilities when he started were cleaning up after the animals and feeding them. Food for thought: Kennel Workers still have to be at the shelter to feed the animals and clean up after them regardless of holidays.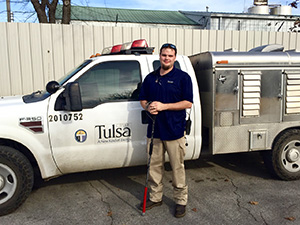 The Animal Shelter is truly a 365-day operation. Denver was promoted to Animal Control Officer II a little more than a year ago, which means he's now out in the field. He repeatedly talked about how much he loves it: He's outside, he's still able to work with animals, and every day is different from the last.
Denver's route is primarily in north Tulsa, but of course Animal Welfare has routes spread throughout all of Tulsa. It didn't take long to recognize that sometimes Denver's job has the possibility for confrontation given that he has to issue fines for loose pets (usually repeat offenders). Or, there are times he has to remove pets due to an owner keeping more animals than what's allowed by City ordinance. If you were to meet Denver, you'd probably notice his calm and friendly demeanor. He doesn't seem to mind the moments of confrontation brought on by some citizens; the positives of this job clearly seem to outweigh the negatives for him.
I truly enjoyed my time observing Denver and I also admit I appreciate him being out there instead of me. I thought I'd leave you with some information and fun facts about Animal Welfare:
Last year, Animal Welfare received more than 11,000 animals for adoption.
Animal Welfare receives and adopts out more than just cats and dogs. They've also had guinea pigs, rabbits, snakes, livestock (horses and cattle), goats, and sheep. The only animals they won't take are native species such as deer: Those animals go to the Oklahoma Department of Wildlife Conservation.
As a City employee, if you're interested in adopting a cat or dog, you can do so for only $10!
Citizens who are not City employees can adopt a cat for $25 and $75 for a dog. For $100, you can adopt two dogs!
The adoption fee covers spaying/neutering, a rabies vaccine, a heartworm test for dogs, a city license, and FELV/FIV for cats.
If you ever need Animal Control assistance, call (918) 596-8001, Monday - Friday from 9 a.m. - 5 p.m.; or the non-emergency police number, (918) 596-9222, after hours.