Urban Data Pioneers
On May 17, 2018, Cities of Service Named Tulsa as one of three winners worldwide for the Engaged Cities Award. Learn more...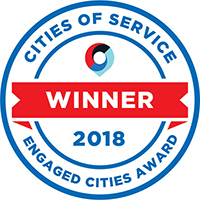 Urban Data Pioneers is a program that empowers teams of city employees and community members to work in teams to deeply understand questions through data analysis. UDP teams meet to identify a problem, ask questions, analyze data and produce a visual analytic report. The goal of Urban Data Pioneers is for teams to learn data analysis techniques together and inform the Mayor city leadership with analysis of data that leads to policy. If you are a community member, and want to join the UDP teams please complete this form.
Mission
Improve the use of data throughout the City of Tulsa. 
Vision
Urban Data Pioneers are the trailblazers within the City of Tulsa who lead the way in identifying best ways to utilize data, educating others, and delivering results based upon data.
Urban Data Pioneers Fall Projects Presentations
November 29, 2018, 4 -5:30 p.m., Reception to follow
City Hall, 175 E. 2nd Street, 10th Floor South Conference Room

To stay up to date on UDP meetings and events, complete this form
Cohort 1 (Feb. 24, 2017 - April 27, 2017)
Street Prioritization 
Traffic Crashes
Land Use Efficiency
Blight and Violent Crime
Population Growth (no slides)
Cohort 2 (June 9, 2017 - August 18, 2017)
Team Formation Meetup
Vacant Land Toolbox
Blight Inventory
Population Growth
Tulsa Data Science - Drivers of Per Capita Income
Final Presentation Agenda
Final Presentation Intro
Cohort 3 (October 6, 2017 -  Jan. 19, 2018)
Cohort 3 Team Formation Meetup
Blight and Violent Crime
Benchmarking Land Value 
Building a Predictive Model for Neighborhood Stability
Mapping Spending on Schools
Measuring Neighborhood Walkability 
Cohort 4 (Sept. 6, 2018 - Nov. 29, 2018)
Cohort 4 Team Formation Meetup
Nuisance Frequent Fliers
Optimizing 911 Call Center Staffing
OSHA Workplace Injuries
Rising Eviction Rates: The Path to Stabilizing Tulsa's Tenancy Crisis
Zoning and Sales Tax: What Impact Do Zoning District Characteristics Have on The Efficiency of Sales Tax Production?