Mayor Bynum Presents Recognition Awards to Two City Employees
5/8/2023
This article was archived on 7/9/2023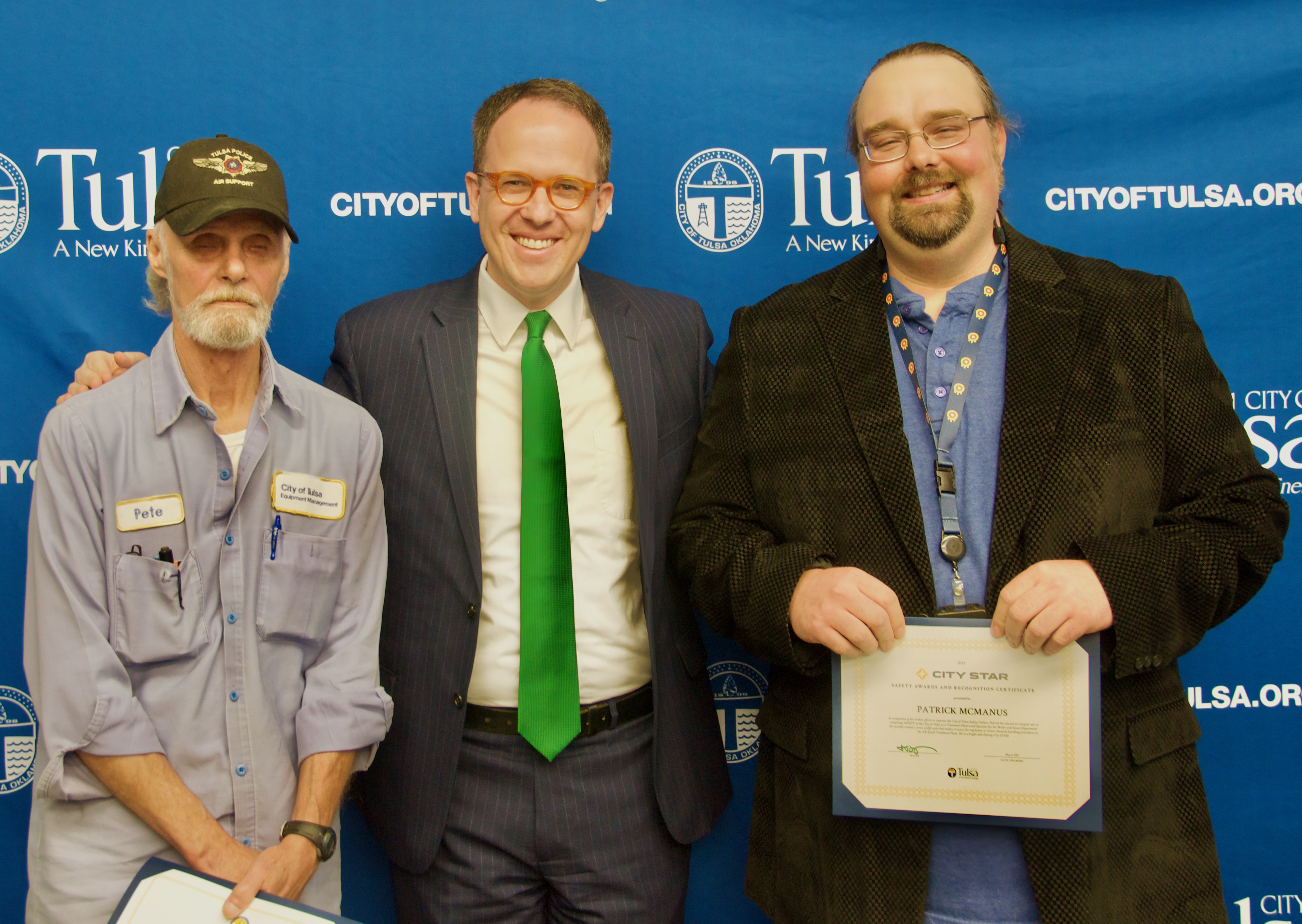 This morning, during a special employee recognition ceremony at City Hall, Mayor G.T. Bynum presented a Michael P. Kier Tulsa Blue Award to Pete Cheek for his outstanding service and a City Star Award to Patrick McManus for his work in improving the safety culture at the City of Tulsa.  
"Our city is stronger and safer because of the tireless efforts of our dedicated employees who have made it their life's work to serve the public," Mayor G.T. Bynum said. "Their commitment to excellence sets the standard for us all, and we are forever grateful." 
About Tulsa Blue Award Recipient, Pete Cheek
Pete Cheek is the longest-tenured employee in the Asset Management Department, where he has worked for the last 45 years. He currently serves as a lead mechanic, in charge of the maintenance and upkeep of nearly 2,000 city vehicles, including 1,300 Tulsa Police vehicles.  
Pete has provided service to generations of public safety personnel in his role. He not only fixes patrol cars but also develops relationships with officers that have led to the ultimate compliment, their trust. To Pete, an officer's patrol car is more than just a vehicle – it's their office and must be safe and reliable.  
In 2015, Pete suffered a severe injury while working on a patrol car. Recovery from the wound was tough, and he sometimes wanted to give up. However, the Asset Management team devised a plan to personally take him to his doctor's appointments, and within a month, he was walking with a cane. A few months later, City Medical and HR altered his job duties – allowing him to return to his life's work – mentoring other mechanics and teaching summer interns.    
The Michael P. Kier Tulsa Blue Award for Public Service Excellence is an employee recognition program that honors the City of Tulsa employees who go above and beyond the execution of their duties in serving their coworkers and Tulsa citizens. Blue is the dominant color in the City of Tulsa logo and symbolizes the extraordinary customer service demonstrated daily to Tulsa citizens and City coworkers alike by the exemplary City of Tulsa employees. Mayor Bynum encourages citizens to nominate a City of Tulsa employee online. Residents can fill out the online form, including a brief description of why a City employee should be selected as a Tulsa Blue recipient, and submit it. 
About City Star Award Recipient, Patrick McManus
Patrick McManus is a Treatment Plant Lead Operator for the Water & Sewer Department. He recently created a new system that has improved how employees access chemical handling procedures at the A.B. Jewell Water Treatment Plant.  
With Patrick's new system, employees can now scan a QR code with their smartphone to access any chemical datasheet at the plant.  
This innovation ensures that employees can access important safety information while working; previously, employees had to rely on hard-copy binders to find the data.  
The City Star Award is a City of Tulsa safety awards and recognition program that recognizes employees for their tireless efforts to improve the safety culture at the City of Tulsa. Employees are often nominated by their peers and supervisors and are recognized with City Star awards for their efforts.