Aquatics
Pool Information
The 2018 swim season is over. We thank you for support of our pools this summer. We hope to see you back next year!
Water Playgrounds Offer Cool Summer Fun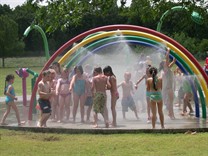 One of the most popular features in 12 Tulsa Parks is the water playgrounds which offer cool relief from summer heat and fun for kids.
The water playgrounds open at noon and close at 8 p.m. For a $25 fee per hour on weekdays or a $45 fee per hour on weekends, the water playgrounds can be opened up to three hours early for a special occasion, however, once the equipment is turned on, its use is open to the public. Early hour requests should be completed and submitted 10 days in advance, with payment due five days ahead of the requested date. Please fill out the Request Form below and return in to Rhonda Soules at rsoules@cityoftulsa.org or fax to (918) 699-3182.
Locations:
Chamberlain, 4949 N. Frankfort
Helmerich, 7301 S. Riverside Drive
Hunter, 5804 E. 91st St.
Kendall-Whittier, 2645 E. 5th St.
Manion, 3003 E. 56th St. 
Maxwell, 5251 E. Newton St.
Mohawk, 5701 E. 36th St. North
Owen, 560 N. Maybelle St.
Schlegel, 3825 W. 53rd Pl.
Springdale, 2223 East Pine
Vining, 6502 N. Cincinnati Ave.
Whiteside, 4009 S. Pittsburg
Water Playground Extended Hours Information
Water Playgrounds will close for the season on October 1.
Splash Pads
Splash Pads are a great way to cool off, get wet, and play!
Splash Pads are similar to water playgrounds but do not have the 'playground element' that water playgrounds have. Splash pads are open from noon to 8 p.m.
Locations:

Archer, 2831 E. Archer St.

Benedict, 1630 E. 12th St.

Braden, 5036 E. 7th St.
Carbondale, 2802 W. 48th St.
Crutchfield, 1345 E. Independence Ave.
Dawson, 2035 N. Kingston
Florence, 1936 S. Gary Ave
Highland, 4909 E. 36th St.
Johnson, 6002 S. Riverside Dr.
Lacy, 2134 N. Madison Pl. (not open due to construction)
Maple, 404 E. 15th St.
Penney, 531 S. 49th West Ave.
Reed, 4233 S. Yukon Ave.
Starks, 1622 N. Main
Tracy, 1134 S. Peoria Ave.
Veterans, 1875 S. Boulder Ave.
Wheeling, 2209 W. Wheeling Ave.
Zeigler, 3903 W. 4th St.
Zink, 3216 S. Trenton Ave.
 
Most splash pads are located in neighborhood parks with no restroom or parking facilities. Please plan accordingly and be considerate of the neighbors.
Splash Pads will close for the season on August 13.
For more information on swimming pools and aquatic activities, contact Aquatics@cityoftulsa.org.