Aquatics
Pool Information
The 2019 swim season is almost here. Pools open the first full week of June. Choose from four pool locations:
McClure Pool - 7440 E. 7th Street. Open Tuesday-Friday 11 a.m.-5:30 p.m. and Saturday-Sunday 1 - 7 p.m. Admission is $3/person.
Berry Pool - 5002 N. Wheeling. Open Monday-Saturday 10 a.m.-4 p.m. Free admission.
Reed Pool - 4233 S. Yukon Avenue.  Open Tuesday-Friday 11 a.m.-5:30 p.m. and Saturday-Sunday 1 - 7 p.m. Admission is $1/person
Whiteside Junior Pool - 4013 S. Pittsburg. Open Monday-Saturday 11 a.m.-5:30 p.m. Free admission.
 Download the 2019 Splash Guide for more information regarding pool rules, special pool days, special events and swimming safety tips, including swim lesson information.
Swim Lessons
Being safe in and around water is an important life skill. Tulsa Parks offers swim lessons for persons of all ages. Please click on the flyer below for more information on class descriptions, session dates and prices. We are pleased to announce that the first 150 in-person registrants will receive a $10 discount. In-person registration is accepted at the following locations: Hicks Recreation Center, Lacy Recreation Center, Reed Recreation Center, and Whiteside Recreation Center. Online enrollment is also available for registration of swim lessons at full class price.
Tulsa Parks also offers scholarships for swim lessons to Tulsa residents who may need some assistance. Please download the form below for more information about scholarship qualifications.
Pool Rentals
Looking for a cool place to have a party or a corporate picnic? We have several pools to choose from. Please check out our Pool Rental flyer for more information on rates and locations.
Water Playgrounds Offer Cool Summer Fun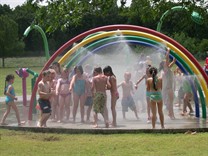 One of the most popular features in 12 Tulsa Parks is the water playgrounds which offer cool relief from summer heat and fun for kids.
The water playgrounds open at noon and close at 8 p.m. For a $25 fee per hour on weekdays or a $45 fee per hour on weekends, the water playgrounds can be opened up to three hours early for a special occasion, however, once the equipment is turned on, its use is open to the public. Early hour requests should be completed and submitted 10 days in advance, with payment due five days ahead of the requested date. Please fill out the Request Form below and return in to Rhonda Soules at rsoules@cityoftulsa.org or fax to (918) 699-3182.
Locations:

Chamberlain, 4949 N. Frankfort            

Helmerich, 7301 S. Riverside Drive (closed)

Hunter, 5804 E. 91st St. 

Kendall-Whittier, 2645 E. 5th St.

Lacy, 2134 N. Madison Pl.

Manion, 3003 E. 56th St. 

Maxwell, 5251 E. Newton St.

Mohawk, 5701 E. 36th St. North (closed)

Owen, 560 N. Maybelle St. 

Schlegel, 3825 W. 53rd Pl.

Springdale, 2223 East Pine

Vining, 6502 N. Cincinnati Ave.

Whiteside, 4009 S. Pittsburg

 
Water Playground Extended Hours Information
Water Playgrounds will open for the season Memorial Day weekend.
Splash Pads
Splash Pads are a great way to cool off, get wet, and play!
Splash Pads are similar to water playgrounds but do not have the 'playground element' that water playgrounds have. Splash pads are open from noon to 8 p.m.
Locations:

Archer, 2831 E. Archer St.

Benedict, 1630 E. 12th St.

Braden, 5036 E. 7th St.

Carbondale, 2802 W. 48th St.

Crutchfield, 1345 E. Independence Ave.

Dawson, 2035 N. Kingston

Florence, 1936 S. Gary Ave

Highland, 4909 E. 36th St.

Johnson, 6002 S. Riverside Dr.

Maple, 404 E. 15th St.

Penney, 531 S. 49th West Ave.

Reed, 4233 S. Yukon Ave.

Starks, 1622 N. Main

Tracy, 1134 S. Peoria Ave.

Veterans, 1875 S. Boulder Ave.

Wheeling, 2209 W. Wheeling Ave.

Zeigler, 3903 W. 4th St.

Zink, 3216 S. Trenton Ave.
Most splash pads are located in neighborhood parks with no restroom or parking facilities. Please plan accordingly and be considerate of the neighbors.
Splash Pads will open for the season Memorial Day weekend.
For more information on swimming pools and aquatic activities, contact Aquatics@cityoftulsa.org.