Sports - Youth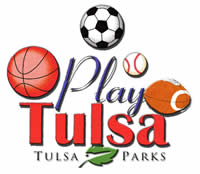 Youth Sports are among Tulsa Parks' most popular programs. No matter what your age, ability or interest, there's likely a program available. Highlights include League Sports, Tournaments, Health Facilities, and other Sports and Fitness Programming.
---
Fall 2021 Youth Sports League: Co-Ed Flag Football League for Ages 4-12
We're VERY excited to be able to offer youth sports leagues this fall.
For the first time ever, co-ed NFL FLAG football for ages 4-12 is coming to Tulsa thanks to our partnerships with Driven NFL Flag Football, Bank of Oklahoma, Tulsa Crime Stoppers, Tulsa Police Department & Tulsa Fire Department!
This an 8-week program held on Sundays, in a 5 vs. 5, non-contact, recreational, co-ed format. We try to limit teams to 10 players to maximize playing time. This is an exceptional program for first-time players who want to learn the fundamentals of football. This is also a wonderful opportunity for players who want to continue enhancing their skills before taking the next leap into tackle football.
There are no try-outs! Everyone participates!
Participants will receive an NFL reversible jersey and flag belt that's theirs to keep! Mouth guards and bottoms without pockets are required, but must be purchased by participants.

All games will be played on Sundays starting October 3 and running through November 21. Teams can practice on Sundays before their game or as often as their coach would like.
Be sure to sign up your kiddo(s) ASAP. The registration deadline is August 31 for guaranteed placement. Registrations will be accepted after the deadline based on availability and may incur a late fee.
Register Here For NFL Flag-Football
View/Download English Registration Packet
View/Download Spanish Registration Packet
---
Scholarships
At Tulsa Parks, we want every child to have the opportunity to participate in youth sports. That's why we have scholarships available for families who need additional financial support.
Contact Tarah Moutray at tmoutray@cityoftulsa.org for information about scholarships available for youth sports leagues and how to apply while registering your child(ren).
---
Volunteer Coaches & Referees Needed 
Our youth sports leagues' success relies on volunteers to coach our teams and referee our games.
The presence and mentorship of a coach or referee gives kids life-changing opportunities on and off the field that can have a long-term, positive impact on their lives. Coaches are provided with several resources along with a comprehensive coaches meeting to ensure all coaches have a fun and successful season!
All Tulsa Parks coaches and referees must fill out an application and a Background Screening Form. Requirements for the background screening can be found online.
Referees will also need to pass a background check and go through a short game officials training provided by Tulsa Parks or their sports league partners.
If you are interested in either volunteer opportunity, please contact Tarah Moutray at tmoutray@cityoftulsa.org for more information and instructions.
About Coaching for Fall 2021 Youth Flag Football
This is an 8-week program held on Sundays in a 5 vs. 5, non-contact, recreational, co-ed format. Games will take place on Sunday afternoons (subject to change). Exact schedules will be created and posted one week prior to the season start date. Younger divisions typically play earlier in the day while the older divisions typically play later. Practices take place one hour prior to game time each week to ensure a convenient and fun experience for all, but you can add additional practices if desired.
---
Stay Informed!
Join the "Tulsa Parks Youth Sports" Facebook Group to get the latest information regarding upcoming leagues, events and game cancellations.
---
Ball Field Reservations
Open, unlighted sports fields can be used on a first-come, first-serve basis. Reservation Permits are available for $45 for a 4-hour time period. If you are interested in making a reservation, email your request to TulsaParks@cityoftulsa.org
Looking for a park with a baseball/softball backstop?
Sports Organizations
Local Sports Organizations utilize Tulsa Parks facilities (i.e., sports fields, gymnasiums, and golf courses) for numerous adult and youth national and regional athletic events. Please contact them directly for information about their specific sport and requirements for participating in their programs