Sports - Youth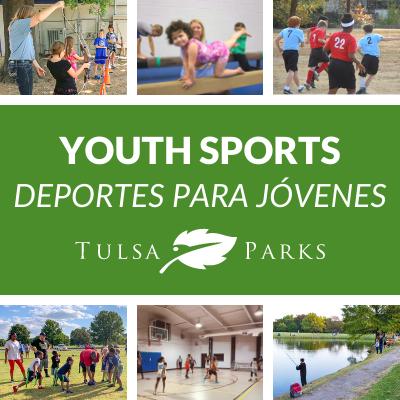 ---
Scholarships
At Tulsa Parks, we want every child to have the opportunity to participate in youth sports. That's why we have scholarships available for families who need additional financial support.
Contact Tarah Moutray at tmoutray@cityoftulsa.org for information about scholarships available for youth sports leagues and how to apply while registering your child(ren).
---
Volunteer Coaches & Referees Needed 
Our youth sports leagues' success relies on volunteers to coach our teams and referee our games. This season, we are in need of volunteer coaches for our spring co-ed youth soccer league.
The presence and mentorship of a coach or referee gives kids life-changing opportunities during and outside of games that can have a long-term, positive impact on their lives. Coaches are provided with several resources along with a comprehensive coaches meeting to ensure all coaches have a fun and successful season! Bilingual coaches and referees are especially needed to help provide inclusive sports opportunities for everyone in our community.
All Tulsa Parks coaches and referees must fill out an application and a Background Screening Form. Requirements for the background screening can be found here.
Referees will also need to pass a background check and go through a short game officials training provided by Tulsa Parks or their sports league partners.
If you are interested in either volunteer opportunity, please contact Tarah Moutray at tmoutray@cityoftulsa.org for more information and instructions.
---
Stay Informed!
Parents can also sign up at www.teamsideline.com/tulsa to receive game cancellation notices. Please note that if schools are dismissed that does NOT mean games will automatically be cancelled. 
---
Ball Field Reservations
Open, unlighted sports fields can be used on a first-come, first-serve basis. Reservation Permits are available for $45 for a 4-hour time period. If you are interested in making a reservation, email your request to TulsaParks@cityoftulsa.org
Looking for a park with a baseball/softball backstop?
Lighted Field Reservations can be permitted for $50/4-hour time period. We have a limited inventory of fields available. Email your request to TulsaParks@cityoftulsa.org. 
A few of our ball field complexes are managed by user groups. At each complex there are lighted and unlighted fields maintained for rentals and reservations. You can find contact information for making field reservations below.
Bales, 5801 S. Union - Contact NOAH Jaguars here.
Hilti, 12148 E.51st St. - Contact Tulsa Little League here.
Patrick, 5123 E. Dawson Rd. - Contact World Baseball Outreach here.
Savage, 17800 E. 21st St. - Contact Tulsa Little League here.