Permitting
The Permit Center is closed through March 31, 2021, out of an abundance of caution due to COVID-19. You can utilize our online portal permit applications (with the exception of the five listed below) and contractor licenses, new and renewals. You will need to register if you have not already done so. Plans will need to be uploaded for permit applications; State licenses will have to be uploaded for contractor licenses.
Commercial Priority review, Commercial Repair, Certificate of Occupancy, Residential Repair, and Demolition permit applications cannot be filed via the online portal. If applying for one of these types of permits, please email the application and plans to cotdevsvcs@cityoftulsa.org.
All other application types are encouraged to use the online portal. Be sure to include your contact information; if a Permit Specialist has questions or needs further information, they will contact you. If you need to pick up a permit that was applied for in person, please call (918) 596-9456. A Permit Specialist will create an invoice that you can pay online and will provide your plans electronically, either by email or on the portal.
You may make a deposit into your account by mailing a check to City of Tulsa Permit Center, 175 E 2nd St, Ste 450, Tulsa OK 74103.
---
Online Permitting
Self-Service Portal | Tutorials | FAQ  |  Address Request Form
Development Services Permitting responsibilities: 
Promotes the safety, livability, and economic growth of the City of Tulsa
Permits all development within the city
Proposes building code revisions to the Ordinances of the City of Tulsa
Registers the licenses of trade contractors
Maintains permit records
Reports construction statistics
Permitting has two major sections:
---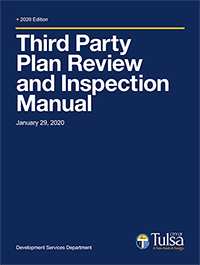 Third Party Plans Review and Inspection Program
To allow for faster plan reviews and inspections for development projects, the City of Tulsa has a Third Party Plans Review and Inspection Program. Developers may choose a third party provider that has been approved by the City of Tulsa to review plans and conduct inspections. This approved provider is authorized to recommend issuance of building permits and certificates of occupancy.
For details, see the Program Manual
---
Quick Links:
Forms, Applications, Booklets:
Infrastructure Development applications and forms
Permit Center applications and forms
Procedure booklets
Trade licensing applications and Stationary Engineer requirements and testing information
Codes, Fees:
Current Codes, Ordinances and Standards
Full fee listing for permits, plans review and inspections
175 E. 2nd Street, 4th Floor | Tulsa, OK 74103 | (918) 596-9456 | Directory
Permit Center Hours: Monday through Friday, 8 a.m. to 4 p.m.
Safety – Livability – Economic Growth
---