A Better Way Program Launches Today, Paving the Way to Real Change for Panhandling
3/7/2018
This article was archived on 4/8/2018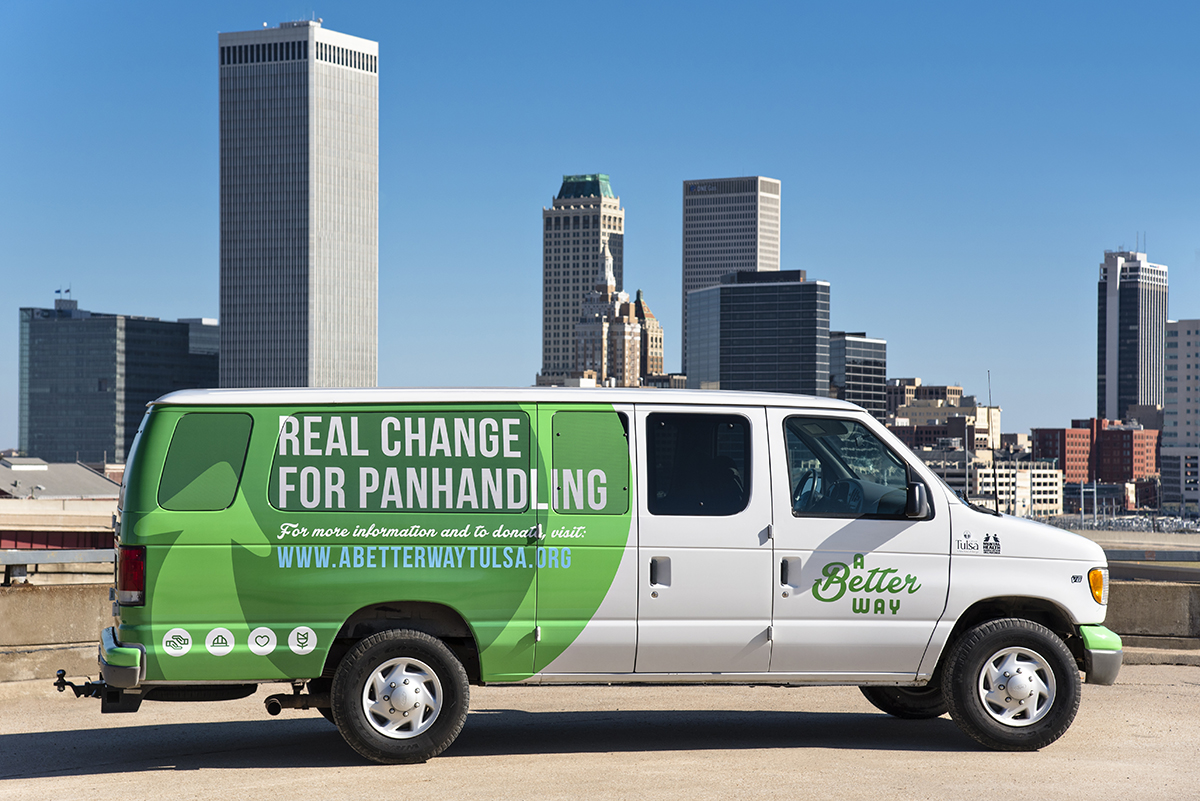 Officials from the City of Tulsa, Mental Health Association Oklahoma and the Tulsa Area United Way launched the Better Way Program today giving individuals experiencing homelessness an alternative to panhandling by offering a day's wages to beautify the community while connecting individuals to services in the community.
Inspired by a groundbreaking employment program in Albuquerque, New Mexico, Mayor G.T. Bynum introduced A Better Way program to the city of Tulsa last year, which received overwhelming support.
"A Better Way program will give participants the dignity of a day's work and wages while cleaning up areas throughout our city," Mayor G.T. Bynum said. "By using a whole community approach, we are providing one solution to panhandling while connecting individuals to life-changing services that will lead to positive change for Tulsa."
Through roving van outreach, A Better Way makes stops at targeted "hot spot" areas within Tulsa that are known for panhandling and homelessness, including pedestrian walkways, medians, and overpasses. Individuals will have the option of participating in the program and will provide beautification efforts throughout Tulsa.
"A Better Way offers a new and innovative way for people experiencing homelessness to earn money not from asking for pocket change, but from working hard to beautify our community in a public work space," Michael W. Brose, MSW, CEO of Mental Health Association Oklahoma said. "At the same time, we are educating the general public that although A Better Way isn't the only solution to panhandling, it will empower participants to change their lives."
During the workday, participants are also connected to an array of services in the community, such as: shelter, housing, mental health and addiction treatment and other more sustainable employment services. The Tulsa Area United Way provided a Social Innovation Grant that will fund an employment specialist specifically for participants of A Better Way.
"The goal of the Tulsa Area United Way's Social Innovation Grants is to fund leading-edge strategies addressing challenges in our community," said Alison Anthony, incoming President and CEO of the Tulsa Area United Way. "A Better Way will give Tulsa a fresh look at this pervasive problem. We are very excited to see this new initiative give hope to those who might be struggling."
The Better Way van (pictured above) is in operation three days a week. Mondays and Fridays are randomized pick-ups throughout the city, with the van starting its journey at 7 a.m. On Wednesdays, participants will meet at 8 a.m. under the Better Way sign at the Denver House, 252 W. 17th Pl.
A Better Way initiative is not the only solution to ending panhandling, homelessness, and unemployment, but cities around the country utilizing similar programs can point to the program's cost savings and effectiveness in their own communities.
A Better Way Tulsa was made possible through a collaboration between the City of Tulsa, Tulsa Authority for the Recovery of Energy (TARE), Mental Health Association Oklahoma, Tulsa Area United Way and the Maxine and Jack Zarrow Family Foundation.
For more information about A Better Way, visit: www.abetterwaytulsa.org. The City of Tulsa also created a video last year when Mayor Bynum introduced the program: https://www.youtube.com/watch?v=_ZDQRT-20dc.