Mayor Selects Wendell Franklin as Tulsa's 40th Police Chief
1/22/2020
This article was archived on 2/29/2020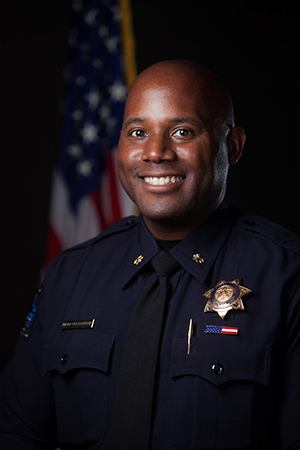 Mayor G.T. Bynum announced today that Wendell Franklin was selected for the permanent, civil service position as the next Police Chief for the Tulsa Police Department. Chief  Franklin will take his post on Feb. 1, 2020, and will become the 40th Chief of Police in Tulsa's history.
"Out of several extraordinary public servants, I have decided Wendell Franklin is the best person to lead the Tulsa Police Department after Chief Jordan retires," Mayor Bynum said. "Wendell has a clear vision for the future of the Tulsa Police Department, he is an effective team builder with high standards, and he knows personally the realities of community policing in all parts of our city. He is passionate about innovation, and his selfless management style reflects the ideal that my administration seeks to instill in the culture of the city government. I want to thank those who very bravely put their names forward for consideration in a process unprecedented locally in its transparency. Going through the interview process and getting to know each of them better was a great reminder to me of the talent we have within the Tulsa Police Department."   
Chief Franklin has served more than 23 years with the Tulsa Police Department. During his tenure, he has focused his efforts on reducing violent crime and increasing community engagement and community policing efforts.
"It is a great credit to the Tulsa Police Department that the Mayor had a very impressive panel of candidates to select from," Tulsa Police Chief Chuck Jordan said. "The decision was not made lightly, and I believe that he chose wisely in the best interest of the police department and the citizens of Tulsa. Wendell has constantly shown great leadership and command during his 23 years of dedicated service to the community. I am proud to know that Wendell Franklin will not only be the next Chief of Police, but the first African American holding this honored position."
Chief Franklin was instrumental in implementing and expanding the Downtown Impact Team, a unit of officers who patrol downtown. Since, he has worked with the Downtown Coordinating Council at Central Library to host open dialogues where businesses and employees can reach out to officers and get vital education in regard to law enforcement. Chief Franklin also implemented Cop Chat in the Gilcrease Division, an opportunity for the community to meet with officers and voice their concerns and opinions about policing.
"I join Mayor Bynum in congratulating and welcoming Wendell Franklin as the next Chief of Police," Tulsa City Council Chair Ben Kimbro said. "All Tulsans should know that my full faith and confidence are placed in Chief Franklin. He will do an exceptional job. He has done a commendable job in representing his skills, commitment and integrity and emerges as the candidate that will ensure Tulsa continues being a world class city. I also want to applaud the Mayor for his thoughtful selection process and am thankful to have played a small role."
The selection process for the next police chief began in December of 2019 when Tulsa Police Chief Chuck Jordan said he would be retiring in February. Mayor Bynum took seven internal applications and held three January town halls and a public forum to see what the public would like to see in Tulsa's next police chief. After multiple rounds of interviews, one of which consisted of a panel of Tulsans, Mayor Bynum made his final selection.
"Mayor Bynum had a difficult choice and a problem we would all like to have - four outstanding candidates to choose from to be the next chief of police," Tulsa County Sheriff Vic Regalado said. "I applaud his selection of Wendell Franklin. I had the opportunity to work with and for Wendell during my 23-year career with the Tulsa Police Department. He possesses the qualities we all expect from our chief -  integrity, work ethic and strong moral character. Chief Franklin also has the unique ability to communicate and connect with members of all the communities that make up this great City and County. I wish him well and look forward to working with Chief Franklin to ensure the safety and security of the citizens of Tulsa."

Over the course of his career, Chief Franklin has been involved in high-level and sensitive investigations at the Special Investigations Division (SID). Some of his most recent work came during the 2019 Tulsa Flood. Chief Franklin was centered in the Emergency Operations Center and operated the northern command post that helped keep Tulsans safe.
"Wendell Franklin has the integrity, experience, and vision to successfully lead the Tulsa Police Department," U.S. Attorney Trent Shores said. "I've personally worked with him on public safety initiatives and can attest to his excellent work ethic, passion for Tulsa, and mission readiness. I commend Mayor Bynum for this excellent selection."
A graduate of the FBI National Academy in 2016, Chief Franklin brought back integral knowledge of social media to the department. Under his direction, TPD allocated money for a Community Education Lieutenant and a community outreach person to handle those efforts. Since then, the department's social media outreach has grown dramatically.
"As a prosecutor for the past 30 years I have worked with several hundred officers in law enforcement," Tulsa County District Attorney Steve Kunzewiler said. "I applaud Mayor Bynum's choice of Wendell Franklin as the City of Tulsa's next Chief of Police. I have worked with Chief Franklin over the past several years, and I know him to be a hard-working, well-informed, and dedicated problem-solver for our city. Chief Franklin is respected within the police department as well as by members of the community. This appointment is a proud achievement for Chief Franklin, and I look forward to working with him and his vision in the future."