Rodrigo Rojas to Join Mayor Bynum's Office as Deputy Chief of Staff
1/11/2021
This article was archived on 2/7/2021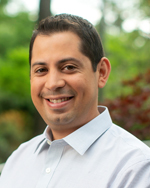 Mayor G.T. Bynum has named Rodrigo Rojas as his Deputy Chief of Staff effective Jan. 19. Rojas will serve in Mayor's Bynum's cabinet with a focus on community development and engagement.
Rojas most recently served as the Director of Community Relations at Gathering Place where he provided leadership and coordination for their community-based strategies, communications, partnerships and engagement efforts.
"Rodrigo has done so much for the Tulsa community and is well respected among his peers. I am incredibly grateful he has chosen to join our team and lead community development projects in underserved communities, continue the work of our New Tulsans strategy and develop partnerships to better serve Tulsans," Mayor Bynum said.
Rojas has 10 years of experience in community relations, public relations and marketing and has served in leadership roles such as Director of Development and Communications at Teach For America and Director of Operations at La Semana, Oklahoma's Spanish-English Newspaper. He is also the founder of Festival Americas, a free multicultural festival that celebrates Tulsa's Hispanic community and inspires the next generation of leaders through college scholarships.
Rojas has a passion for community service and developing partnerships to help build thriving communities while celebrating diverse cultures. He said he is excited to bring that passion for service to City Hall.
"I am extremely honored to join Mayor Bynum's team and serve the people of Tulsa," Rojas said. "I am eager to work alongside a dynamic team that strives to create opportunity and growth for all Tulsans and its communities."
Rojas was born in Argentina and raised in Tulsa. He holds a Bachelor of Science from the University of Arkansas in Marketing Management and currently serves as a trustee for South Tulsa Community House and as the Vice President for the Hispanic American Foundation. Rojas, his wife and twin boys are all proud to call Tulsa home.
---
Translation Assistance
The City's website, www.cityoftulsa.org,  has a tool to help with translation assistance for any page. Website visitors can click the drop down menu on any page that says, "Select Language," and choose from one of more than 100 different languages.