Hazard Mitigation
April 2019: The City of Tulsa has submitted the Multi-Hazard Mitigation Plan Update to the Oklahoma Department of Emergency Management for approval.
---
Preparing for Disaster – Tulsa's Hazard Mitigation Plan
The City of Tulsa has started the process of updating its Hazard Mitigation Plan to comply with the Federal Disaster Mitigation Act of 2000.
FEMA requires local governments to update their Hazard Mitigation Plan as a condition of receiving Federal Hazard Mitigation Assistance. Based on completion of this planning process, FEMA may provide pre-disaster funding for projects such as flood-proofing buildings, purchasing property in the floodplain, improving stormwater management facilities, construction of storm shelters and other disaster preparations. Post-disaster funds would also be available, helping the city to build back stronger after a natural disaster strikes.
Tulsa's hazard mitigation planning includes several essential pieces:
Identifying and profiling hazards that affect the local area
Analyzing the people and facilities at risk from those hazards
Developing mitigation actions to lessen or reduce the impact of the profiled hazards both before and after disaster strikes
To make this plan a success, we need your help!
The City's process to update its current Hazard Mitigation plan will include several opportunities for public participation, including:
Public meetings
Invitations to share stories and information on past Tulsa disasters
A public survey to solicit as much input from our citizens as possible.
Your input will be included in a draft plan, which will be available for public comment in the spring of 2019.
We Want Your Feedback and Participation
Gathering input from residents and businesses is an important and required step as Tulsa updates its Multi-Hazard Mitigation Plan. In compliance with the Federal Emergency Management Agency's (FEMA) Local Mitigation Plan requirements, the City of Tulsa is giving the public the opportunity to review and comment on chapters of the draft plan prior to its adoption so we can incorporate this feedback into the Plan.
Please look over these chapters of the draft plan and provide your comments by email. Thanks, we look forward to your feedback!
---
What is Hazard Mitigation?
Natural disasters can be costly and traumatizing to a community. However, with the right preparation, we can reduce the impact of any disaster and protect the long-term growth of our city. Preparing a Hazard Mitigation Plan is an essential part of community planning. It ensures that Tulsa will have the right infrastructure and emergency procedures to prepare for a disaster.
The Federal Emergency Management Agency (FEMA) describes hazard mitigation as "any action taken to reduce or eliminate the long-term risk to human life and property from natural hazards." For Oklahomans, these hazards could include anything from floods and tornados to wildfires and earthquakes.
In addition to preparing before a disaster, this plan will help the community recover, rebuild and move on after a disaster has happened. With hazard mitigation, we can put things back together in a way that will build a stronger, safer Tulsa.
Tulsa's plan will include multiple facets, including:
Prevention activities such as floodplain revisions or changes in city regulations
Public education to ensure everyone understands how to move forward after a disaster
Emergency services plans to protect property and human life
Projects to strengthen Tulsa's infrastructure


---
Contribute Your Stories
We are seeking help and input from the Tulsa community during the local planning process. We are looking for:
Disaster-related stories
Photographs of damage caused by the natural disaster in your neighborhood
Comments during the planning process
Your input will help us to identify potential hazards around the city and prioritize projects as we prepare for funding upcoming projects.
---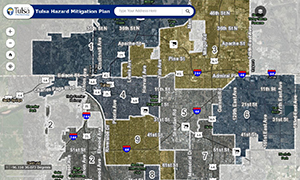 Map My House
Want to see the potential hazards that are specific to your own neighborhood? You can do that by utilizing this Map My House link.
Just zero in on your area to see what hazards have affected your neighborhood before and what hazards you need to be prepared for.
Get Involved!
Want to help the City of Tulsa plan for the next big tornado or flood? Share your stories and watch for more information on the next public meeting.