Hazard Mitigation
Help Us Update the 2024 Hazard Mitigation Plan
Tornados and floods can ruin people's lives – but advance planning can make a huge difference and SAVE lives. The City of Tulsa is updating its local Hazard Mitigation Plan for FEMA and needs your input.
---
What is Hazard Mitigation?
Natural disasters can be costly and traumatizing to a community. However, with the right preparation, we can reduce the impact of any disaster and protect the long-term growth of our city. Preparing a Hazard Mitigation Plan is an essential part of community planning. It ensures that Tulsa will have the right infrastructure and emergency procedures to prepare for a disaster.
The Federal Emergency Management Agency (FEMA) describes hazard mitigation as "any action taken to reduce or eliminate the long-term risk to human life and property from natural hazards." For Oklahomans, these hazards could include anything from floods and tornados to wildfires and earthquakes.
In addition to preparing before a disaster, this plan will help the community recover, rebuild and move on after a disaster has happened. With hazard mitigation, we can put things back together in a way that will build a stronger, safer Tulsa.
Tulsa's plan will include multiple facets, including:
Prevention activities such as floodplain revisions or changes in city regulations
Public education to ensure everyone understands how to move forward after a disaster
Emergency services plans to protect property and human life
Projects to strengthen Tulsa's infrastructure
---
Contribute Your Stories
We are seeking help and input from the Tulsa community during the local planning process. We are looking for:
Disaster-related stories
Photographs of damage caused by the natural disaster in your neighborhood
Comments during the planning process
Your input will help us to identify potential hazards around the city and prioritize projects as we prepare for funding upcoming projects.
---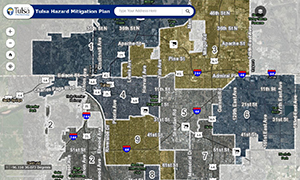 Map My House
Want to see the potential hazards that are specific to your own neighborhood? You can do that by utilizing this Map My House link.
Just zero in on your area to see what hazards have affected your neighborhood before and what hazards you need to be prepared for.