Sports - Adult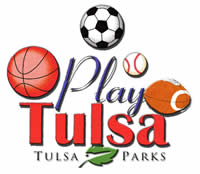 Due to the ongoing COVID-19 pandemic, most adult sports leagues will not be offered this season. Please check with specific community centers about sports programs available for adults at their center.  
Sports and Fitness Programs are among Tulsa Parks' most popular. No matter what your age, ability or interest, there's likely a program for you. Highlights include League Sports, Extensive Sports/Fitness Facilities, and Sports and Fitness Programming.
Get the latest schedule information on any League Sport.
---
Register online for classes, programs and league sports!
Online Registration
---
Pickleball

One of the fastest growing activities across the U.S. is offered at Hicks Park and Whiteside Park during the fall and spring. Described as a combination of tennis, badminton, ping pong and racquetball, Pickleball is a fast-paced game that anyone can play.
Hicks Park has open play on Monday and Friday afternoons from noon - 3 p.m.
Whiteside Park has open play during the fall months on Mondays, Wednesdays & Fridays from 1:30 - 4 p.m., Tuesdays from 11:30 a.m - 4 p.m., Thursdays from 11:30 a..m. - 8 p.m. and every other Saturday from 9 a.m. - 1 p.m.
Stay Informed!
Join the "Tulsa Parks Adults Sports" Facebook Group to get the latest information regarding upcoming leagues, events and game cancellations.
The Community Center Fitness Rooms are some of the best deals in town.
Ball Field Reservations
Open, unlighted sports fields can be reserved on a first-come, first-serve basis. Reservation Permits are available for $45 for a 4-hour time period. 
Looking for a park with a baseball/softball backstop?
Sports Organizations
Local Sports Organizations utilize Tulsa Parks facilities (i.e., sports fields, gymnasiums, and golf courses) for numerous adult and youth national and regional athletic events. Please contact them directly for information about their specific sport and requirements for participating in their programs.
Tell Us What You Think!
After your involvement with a Park program or activity, please take a few moments to complete an Evaluation Form. Thanks!