Recruitment & Employment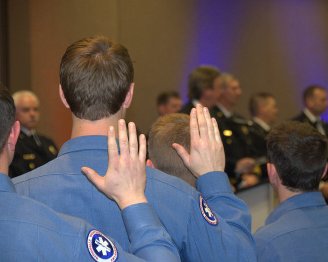 ---
Please read all instructions carefully. You must follow the procedures below to test. Failure to do so may result in elimination.
You may schedule the entry-level exam by calling the City of Tulsa Employment Office at (918) 596-7427. You must speak directly to staff to schedule. All exams will take place at City Hall, 175 E. 2nd Street.
Each candidate must arrive at each appointment (Physical Agility Test, Structured Oral Assessment and Background Interview Questionnaire/Chief's interview) at least 30 minutes prior to their scheduled appointment. A candidate that does not show up or cancels without giving 24-hour notice to any portion of the test, must wait six months to be eligible to re-enter the testing process with the written test.
Candidates must receive a passing score to be placed on the Chief's hiring list. If you are not placed on the hiring list you will have to restart the process again with the written test after six months. Applicants placed on the hiring list but not selected will only be required to participate in a modified Chief's interview (update) for any upcoming classes while their written exam is valid.
All BIQ updates must be submitted in writing to a Human Resources designee.
All candidates will be asked to sign and agree to the rules and processes prior to testing (Download Agreement)

Please see Selection Process for additional information about testing.